This website was created to support the Celebrating Cicely project, held in Bow on 21 June 2014
2019 Cicely Event
On Friday 18th January 2019, the Wareham Whalers will be celebrating the life and work of Cicely through her writings, poems and the shanties she collected. The concert is scheduled for 7:30pm at The Parish Hall, Wareham Quay. Tickets £8 (including Ploughman's). For further details have a look at their Facebook page.
2017 Cicely Event
This multimedia presentation by Rob Barnes and friends took place at The Word in South Shields on 22 April 2017. It celebrated the life and written words of English poet Cicely Fox Smith, particularly her personal experiences with those involved in World War 1, on land and at sea. Click on the poster for more information.
Concert CD available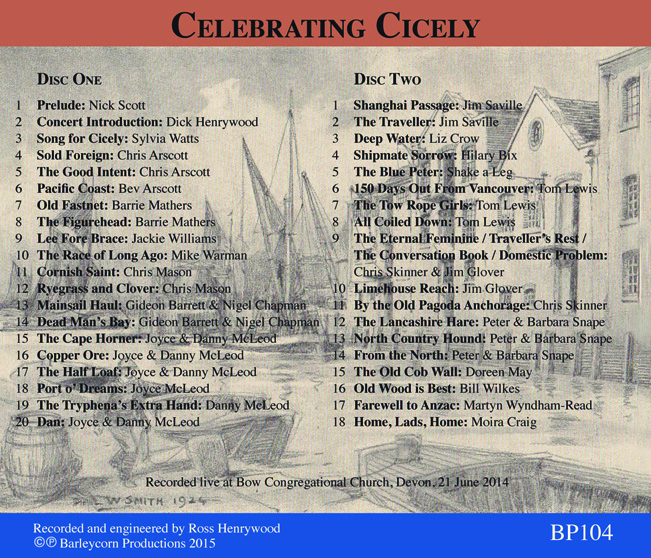 Copies of the CD are available on eBay or by contacting the organisers. A DVD selection of the day was also produced. Contact us for ordering information: folk@reynardine.co.uk
PROJECT COMPLETE
The Celebrating Cicely project was set up to commemorate Cicely Fox Smith, poet, author and traveller, in the village of Bow in mid-Devon where she spent her last years and is buried. Her grave in the local Bow churchyard at Nymet Tracey had no mention of her life or work, just a short inscription with her name and dates and a quote from Sir Walter Raleigh's poem "The Conclusion".
The main aim was to raise funds to pay for a commemorative stone to celebrate her work commissioned by the organisers. The day was brilliantly successful and the funds raised were sufficient to cover the addition of Cicely's sister Madge's name to the grave following the discovery that her ashes were also interred there. A new inscription was designed and added to the original stone which had to be partially cleaned.
| | |
| --- | --- |
| | |
| The original headstone for Cicely Fox Smith in Bow churchyard at Nymet Tracey | The grave with new commemorative stone and addition of Cicely's sister's name to the headstone |
Simon, the stonemason, told us that Cicely's original headstone was made from York stone and so the new commemorative stone was made to match. Simon assures us that before too long this will weather down to match the old stone and will not always look so pristine! It was discovered during work to fix the stone, that Cicely's original headstone had been hand-carved by Helliar's of Crediton. Simon's father worked for Helliar's at the time and soon took the firm over. It is therefore more than likely that three generations of the same stonemason family – Simon, his father, and his son, Sam – have been involved.
To read feedback from the event click here. To read a report which appeared in the local Crediton Country Courier (reproduced by kind permission of Alan Quick) click here
The project was financially successful with a turnover of just over £3200, mostly raised through sponsorship, support from many local businesses, merchandise, ticket sales, various generous donations and two grants, from Devon Folk and Devon County Council. A small sum of £123 was refunded to Devon County Council as part of the terms of their grant, and that will go back into their pot to support other local projects.
This website was created purely to support Celebrating Cicely but following several requests it will remain online for as long as it remains of interest. Again, any enquiries should be sent to the usual contact address.
The organisers would like to record their grateful thanks to everyone who contributed, took part, or supported the event. Thank you all for a job well done.
A 52 page booklet was produced for the day along with some commemorative badges. The few remaining copies of the booklet have now been sold. Contact us if you are interested in a badge.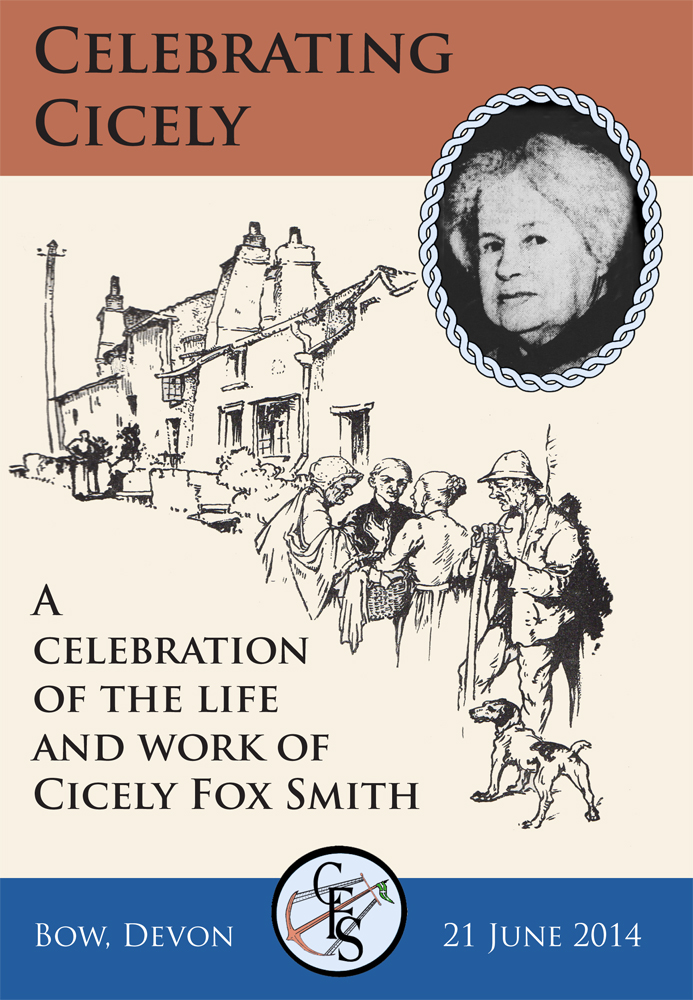 Home website: www.reynardine.co.uk