Bow Station, Devon
Station Masters at Bow
Bow had a steady stream of station masters and the following, very preliminary list has been assembled, mostly from directories held in the Exeter Local Studies Library. In the 19th century the holder was often given the lofty title of "Superintendent" rather than Station Master.
| | | |
| --- | --- | --- |
| 1866 | Frederick Parsons | 1866 Kelly (Superintendent) |
| 1870 | Geo. Hildyard | 1870 Morris. Moved to North Tawton where he is listed as George Hillard (1873 Kelly, 1878 White) |
| 1873 | Frederick Parsons | 1873 Kelly (Superintendent) |
| 1878 | Wm. Gardiner | 1878 White |
| 1883 | William Busbey | 1883 Kelly (Superintendent) |
| 1889-1897 | Alfred Webb | 1889 Kelly (Superintendent), 1890 White, 1893 Kelly (Superintendent), 1897 Kelly |
| 1902 | John Thornton Burge | 1902 Kelly |
| 1906 | Albert Ernest Willcocks | 1906 Kelly |
| 1910 | William T. Molland | 1910 Kelly |
| 1914 | George Albert Batten | 1914 Kelly |
| 1919 | William L. Board | 1919 Kelly |
| 1923-1926 | Albert Thomas Wheeler | 1923 Kelly, 1926 Kelly. Spence gives dates as November 1924 to July 1926. Wheeler moved to Bexleyheath |
| 1926-1930 | W.H. Beer | Spence gives dates as July 1926 to May 1930 |
One station master not listed above was a Mr. H.J. Towning, who was at Bow for 18 months and left to move to Eggesford in 1913. A report of a presentation made on his departure appeared in The Western Times for Friday, November 28, 1913:
Presentation to Bow Stationmaster
Wednesday a number of the public in the neighbourhood of Bow met at the Churchroom, Bow, for the purpose of presenting Mr. H. J. Towning with a souvenir of his residence in the town. For the past 18 months he has acted as station master at Bow, and by his close attention to his duties and uniform courtesy to those using this station, he has won golden opinions. Mr. Towning is now removing to Eggesford, a busier station. The presentation took the form of a handsome marble timepiece, suitably inscribed as follows: "Presented to Mr. H. J. Towning, in appreciation of his courtesy and attention to the public whilst station master at Bow, Devon, 26th November, 1913." Rev E. Stanley Phillips, rector of Bow, presided, and spoke very highly of the way Mr. Towning had carried out his duties. Mr. W. Carter Pedler, J.P., also referred to Mr. Towning's courtesy and close application to his work. Mrs. Carter Pedler made the presentation, and Mr. Towning suitably responded. Mr. R. de Vardon Williams and Dr. King also spoke of the recipient's excellent work whilst at Bow, and wished him success in his future sphere of labour. Messrs. Depree and Young of Exeter, supplied the present.
When W.H. Beer departed in 1930 he moved to Tipton St. John and a similar presentation made on his departure was reported in The Western Times for Friday, May 23, 1930:
Presentation to Mr. W. H. Beer at Bow
An interesting presentation took place at Bow during the week-end when Mr. W. H. Beer, the popular stationmaster, was the recipient of a wallet containing Treasury notes, and Mrs. Beer a silver cake basket, from the inhabitants of Bow and Spreyton, on Mr. Beer's departure to Tipton St. John, to take up similar duties. Major Jourdain, in making the presentation, referred to the high esteem in which Mr. Beer was held, he having the knack of combining a high standard of efficiency with unfailing courtesy and kindness.
A further surprise gift then came in the form of a tobacco pouch from Messrs. C. Floyd and W. Hains, two members of the station staff, who bore eloquent testimony to the cordial relations which had always existed between them.
In May 1930 responsibility for Bow was taken over by North Tawton and the station no longer had a resident station master. The post at North Tawton was held by W.H. Odam until May 1933. He was succeeded by L.T. Corney through to September 1938 (when Corney moved to Ilfracombe) and then by W.H. Cornall until some time in 1944 (Cornall came from Pinhoe).
Further information about staff at Bow can be found in an article by Geoff Horner which appeared in the Dartmoor Railway Supporters' Association magazine The Dartmoor Pony (click here to view)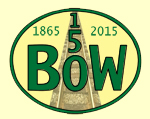 If you have any information or material relevant to the station we would love to hear from you (contact us).