Bow Station, Devon
Images of Trains
Movement History (in date order, most recent first)
23 February 2023
With the Dartmoor and Barnstaple lines both closed for a week of maintenance, we have been treated to the return of the Road-Railers. Here we have one of two returning from delivering, and presumably installing, a load of concrete slabs further up the line. Unfortunately the Celtic Nations flag wasn't very excited.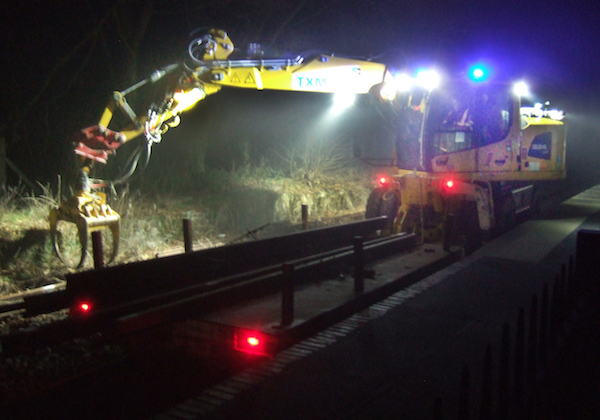 24 January 2023
More night work, very early on Tuesday 24 January, collecting the rails which had been successfully cut. More cutting and collecting to follow. Are Network Rail employees and neighbours along the line ever allowed to sleep?
19 January 2023
Activity very early in the morning with the first signs of some clearing up along the rebuilt line. A rail cutter clips old lengths of track into shorter sections ready for collection. Unfortunately it could not attack many lengths without them being separated first, so the job was abandoned for the night, presumably to be continued when the planners can sort the necessary equipment out.
10 July 2022
Colas 70808 pauses briefly at Bow for a photostop in the early morning sunlight. It was on its way back to Westbury TNT with 70815 with spoil from the Okehampton line. Gloria explains that she is looking forward to the Wimbledon men's singles final later in the day.
30 June 2022
With trains being rather boring over the last couple of months, it was good to see one variation from the ubiquitous Class 150 units this evening.
Rather gloomy for photography but at least the approaching 158959 gives us the opportunity to show off our latest platform decorations in the form of two vintage enamel signs, both on a railway theme.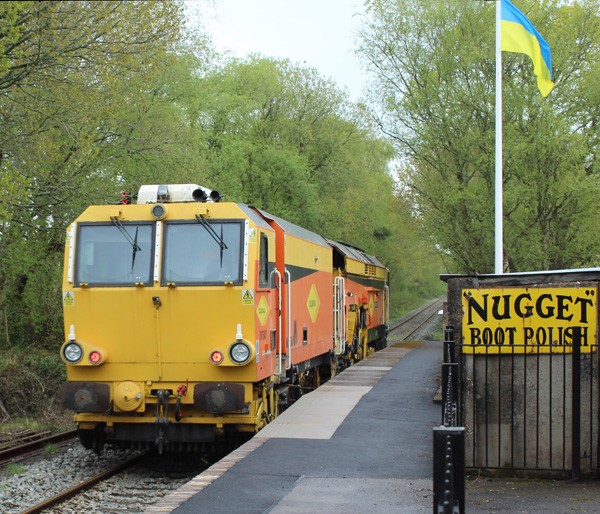 2 May 2022
Colas Tamper DR75407 "Gerry Taylor" on its way back up to the Coleford site having travelled
down towards Fatherford earlier in the day.
30 April 2022
A previously unrecorded big-beastie caterpillar vehicle passing through as
part of a convoy on the way up to the Coleford worksite.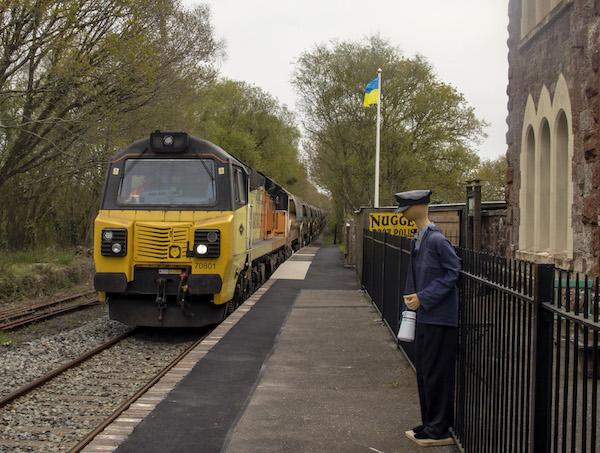 28 April 2022
A Turkish visitor at last! 70801, the ex-Turkish demonstrator, affectionately known as Doner,
pauses at Bow on its way to the Fatherford works with a train of twenty loaded auto-hoppers (image
courtesy Al Peters). Gloria is taking notes. This leaves 70816 as the only operational Colas Class 70
not to have been used during the upgrading of the line over the last 18 months.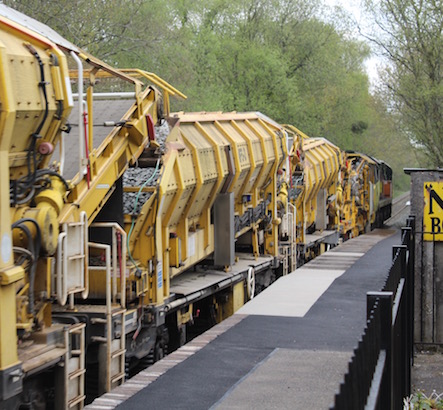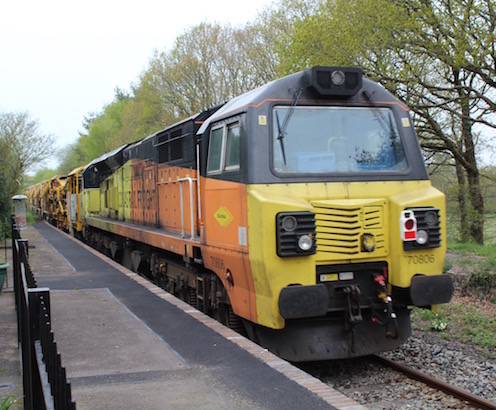 28 April 2022
The Rhomberg-Sersa HOBC makes its way towards Fatherford tailed by Colas 70806.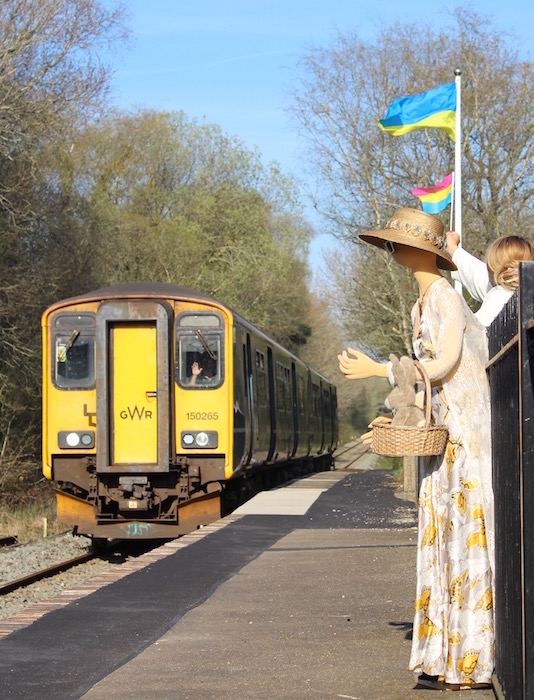 16 April 2022
A friendly wave from the driver as Gloria shows off her Easter outfit, complete with Bunny in a Basket.
23 March 2022
A full month since our last entry, with only the regular Class 150s rushing
past except for some overnight road-railer activity. This week has seen a little
variety, with Class 158s on Monday and yesterday and a Class 166 Turbo today,
seen here passing our flag in support of Ukraine. Also notable was hearing our
first cuckoo of spring while waiting to photograph the train.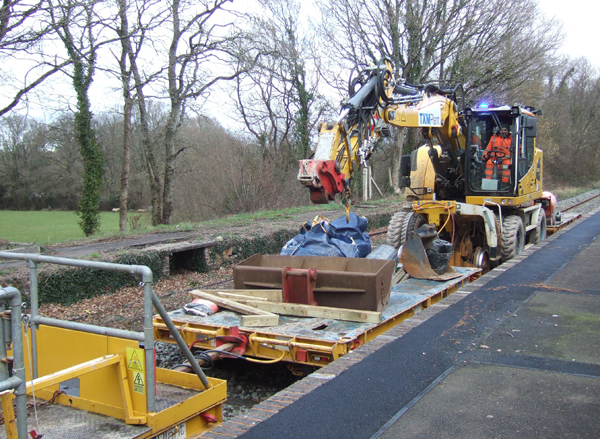 23 February 2022
The last three months have been fairly boring with just the regular Class 150s rushing
up and down the line. The only break has been the occasional 158, 164 or 165, so it is almost
a relief for the line to be closed for the bridge repairs near Coleford. It has meant the return,
albeit temporary, of the road-railers with their friendly Welsh crews requesting tea!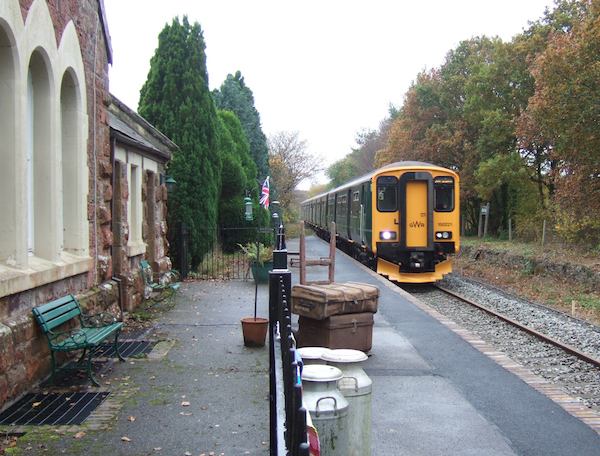 20 November 2021
Not a terribly exciting picture but symbolic of the first day of regular services being reinstated from
Exeter to Okehampton. GWR provided two pairs of 150 units to ply an extended hourly service, all
passing Bow at speed and fluttering the flags and bunting!
Inaugural train on 17 November 2021
The smartly refurbished unit 150233 waits at Bow before returning to Okehampton on its first run
with special guests. Note the commemorative headboard. The unit is also decorated with special
Dartmoor Line decals not visible in this view.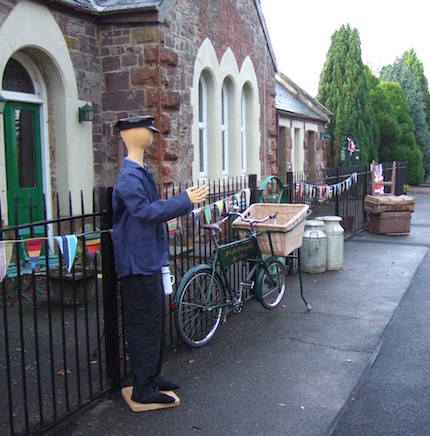 Platform Decorations on 17 November 2021
Two views of the platform decorated ready for the special inaugural trains. The mannequin is called Gloria
and her kit was used by Ross while training as a fireman on Darfield No.1 and the USA tank.
Thames Turbo 166211 on 29 October 2021
The first Thames Turbo unit to visit the line passes Bow Station on the day's driver training
roster. Good to see a slightly more modern unit than the ancient Class 150s.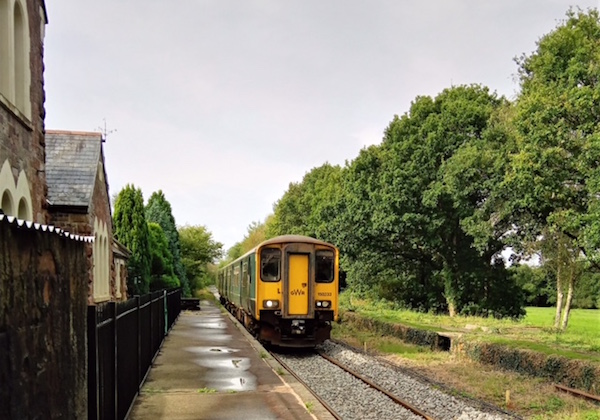 More driver training on 4 October 2021
Another 150 unit passes Bow at speed (image courtesy Graham Bowden). Awkward scheduling problems at
Exeter St. Davids, along with restrictions interlacing Okehampton trains with the Barnstaple line (remember the
single track between Crediton and Cowley Bridge) require some very tight timetabling so speed will be the key.
Driver Training on 23 September 2021
A sociable visit on one of the driver training runs. Unit 150238 pauses long enough for a fine shot of
the station (image courtesy Steve Thornely). These runs have utilised a number of the 150 units
based in Exeter TMD, and one subsequent trip had a 150 coupled with a 158.
First train on 20 September 2021
09:21am saw GWR 150246 passing Bow on the first of a scheduled series of driver training runs over
the route during next two weeks. Rather difficult lighting conditions for a photograph but a significant
milestone in rebuilding the line. Apparently GWR need to train 50 drivers so they have the relevant
route knowledge when regular services start, currently plannned for 20 November.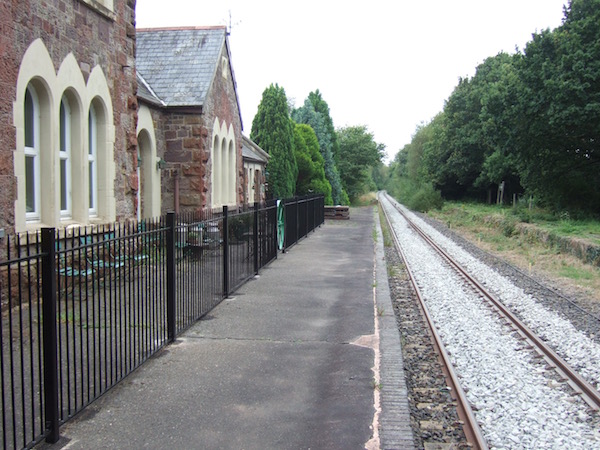 New ballast on 1 September 2021
So that's what all the noise was overnight! The ballast delivery train went past four times in the early
hours of this morning, depositing this horrible foreign ballast. Meldon wherefore art thou? Although
not very clear, a neighbour's cat is sitting on the line in the middle distance, probably
thinking: "Why have they put all these big lumps in my dirt tray?"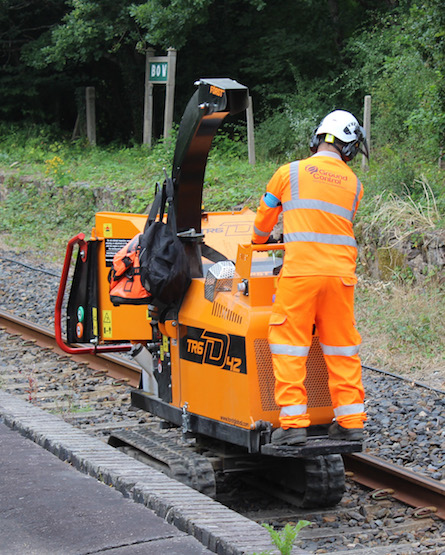 Vegetation clearance on 30 August 2021
This is just a first run at clearing vegetation from the line. The task is being held up due to the presence
of dormice, a protected species, and the necessary licensing is a problem. Clearance is restricted to one metre
from the line and not below two metres in height, but the eventual plan is to cut back to four metres from
the line in December. We like the little caterpillar chipper, but a very bumpy ride over the ballast!
Colas Rail Tamper DR73920 on 22 August 2021
Lights! Camera! Action! A rather ghostly tamper works its way past Bow Station in the early hours of
the morning – very noisy! It has done this section of old track before but apparently it was still a bit low.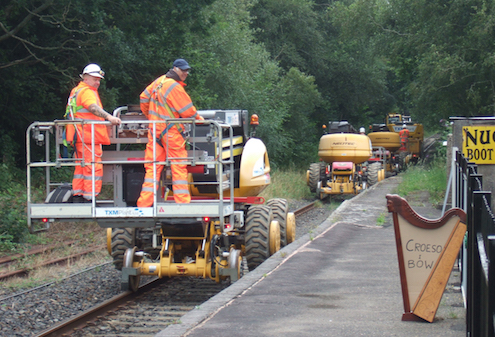 Cherry Pickers again on 13 August 2021
Great fun while the road-railer refuels holding up a queue of three cherry pickers travelling up the line to
their work site. A cherry jam? They eventually proceed in convoy past the station's welcome sign to make
all the Welsh workers feel at home.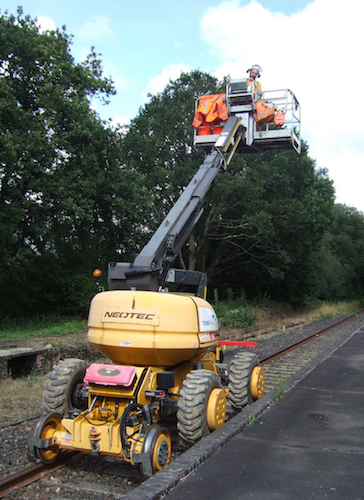 Cherry Picker returns on 12 August 2021
"My cherry picker's taller than yours".
Cherry Pickers on 12 August 2021
Lots of activity yesterday with five equipment movements including a couple of cherry pickers which we hadn't
seen before. No photo opportunity then but surpassed this morning with no less than four cherry pickers in convoy –
London buses spring to mind! They have obviously made a start at clearing vegetation at the eastern end of the line.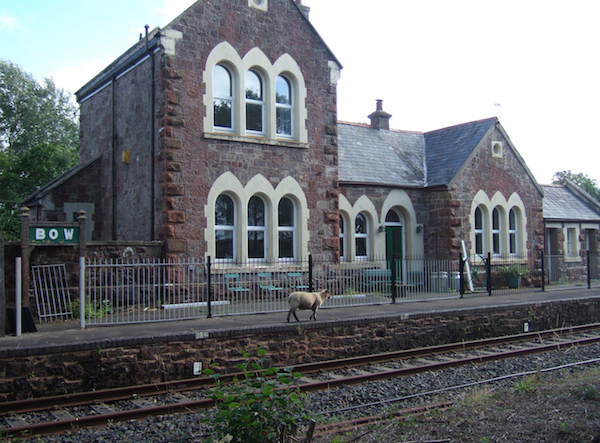 Little Bow Sheep on 31 July 2021
Having spent the previous day on the opposite platform waiting for a London train to Eweston and
thence on to Woolwich and Ramsgate, little Bow sheep came over to Platform 2 but had no more luck
with trains to Okehampton and Sheepstor. Clearly Bow is still the best station in Devon, baaa none.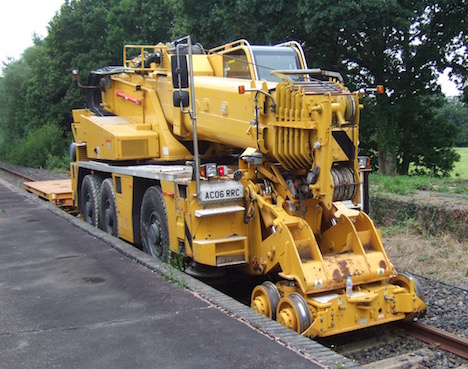 Road-Railers on 29 July 2021
Lots of passing road-railer activity today. We have not seen the big three-axle six-wheel crane before and
although the caterpillar vehicles have been around they are less common than the usual two-axle wheeled
variety shown several times below.
Empty ballast return train on 23 July 2021
Good to have a couple of workings by GB Railfreight in place of the more typical Colas
Class 70s. Here 66784 "Keighley & Worth Valley Railway 50th Anniversary 1968-2018" heads
back towards Westbury with 15 empty HQA hopper wagons. One notable point is that the Colas
workings have been topped and tailed whereas these two GBRf workings managed with just one
loco, presumably running up to Meldon to run round. Eagle eyes may have noticed the line of
(hopefully) temporary yellow stakes used to check track alignment after the Tamper runs.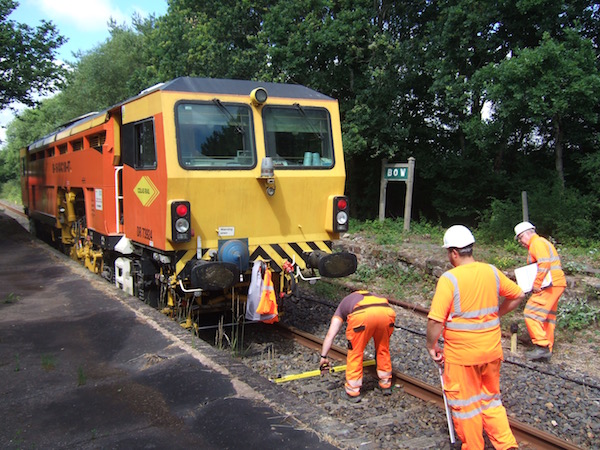 Tamper at work on 15 July 2021
Another shot of the Tamper, this time working its way past Bow with attendants checking the
alignment and height of the track.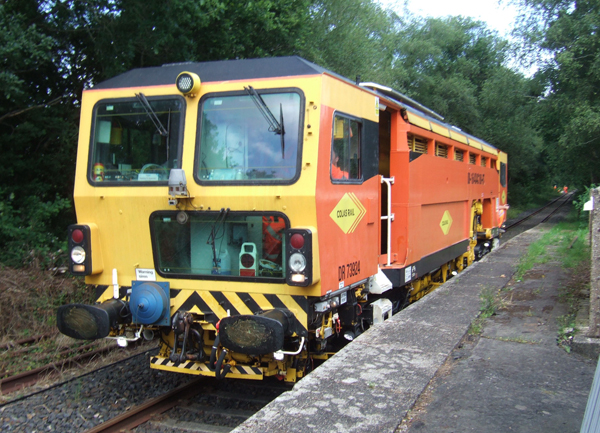 Colas Rail Tamper DR73924 on 14 July 2021
The Tamper approaches Bow on its way down towards Okehampton. It had visited before on
14/15 May but arrived this time on 5 July and is temporaraily resident working on all the
freshly ballasted new track. Bow has missed most of the fun since the track past here was
renewed in 2010 (click here for that story) and is apparently still deemed up to standard. The
Tamper was a welcome visitor making a change from the recently ubiquitous Class 70s. Note the
workers in the background, fitting new fencing at the bridge over the road to Bow village.
One of the missing quintet on 23 June 2021
Colas 70817 finally makes an appearance. It was one of only five of their Class 70s not to have visited the line
during all the rebuilding activity. The load in this case consisted of twenty JNA and similar wagons loaded with
old wooden sleepers, at long last being taken out by rail rather than the inexplicable lorry traffic from Okehampton.
Incidentally, having seen thirteen of the Colas fleet of seventeen Class 70s, we subsequently hunted for the four
absentees: 70801, previously the Turkish demonstrator, is excused since it is not fitted for top and tail working;
70804 is being raided for spares at Nottingham; 70807 is in the works for generator repairs; and 70816 is currently
based at the Grangemouth refinery up in Scotland.
Platform clearance problem on 16 June 2021
The moment that rails placed diagonally on a truck didn't seem quite such a good idea! Fortunately
the crane on the road-railer could slew them round fairly quickly to clear the platform. The rails
were replacements for faulty sections in the newly stressed continuous rail to the east of Bow.
Happy Workers on 7 June 2021
One of the road-railers pauses at Bow for a quick photo opportunity. They always say a happy
workforce is more productive!
Ballast waste on 2 June 2021
Colas 70814 passes the Devon flag on the back of a departing train of waste ballast on its way heading for
Westbury and eventually for reprocessing. Note the base of the old up-platform shelter, a sad loss.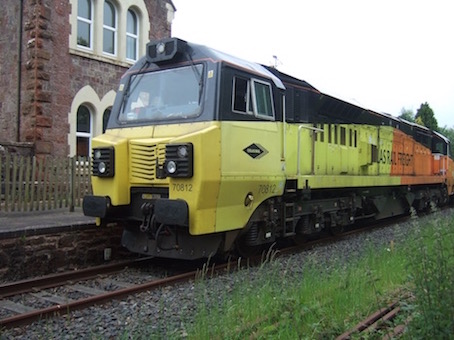 Visitors on 2 June 2021
Two visitors presented opportunities for good images. The Liebherr road-railer dropped in for a short visit and the
Class 70 stopped on its way back out with 20 wagons loaded with waste ballast going off for reprocessing. The latter was
tailed by 70814 which was its first visit to the line (the twelfth of seventeen Colas Class 70 locos – only five to go!). It had
problems inward-bound the previous evening and ran very late.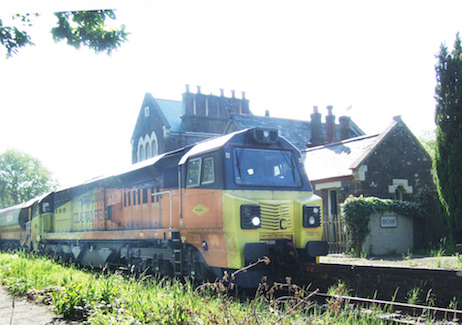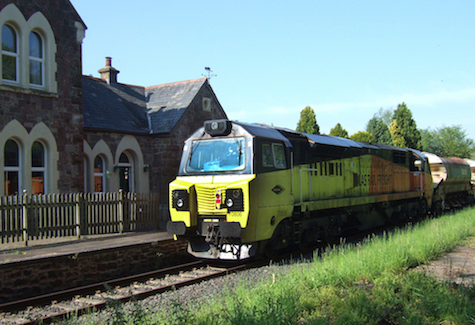 Ballast delivery on 31 May 2021
Two shots of Colas Class 70s heading towards Okehampton. Twenty hoppers topped and tailed with 70815 and 70806,
again in rather difficult light, early morning this time.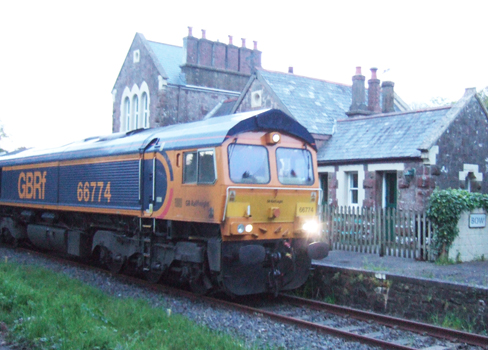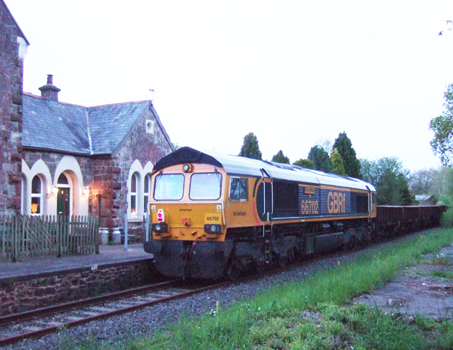 Collection on 27 May 2021
Two shots of GB-Railfreight Class 66s heading for a collection of spoil from Okehampton. Twenty-seven
empty wagons topped and tailed with 66774 and 66702 in rather dim late-evening light.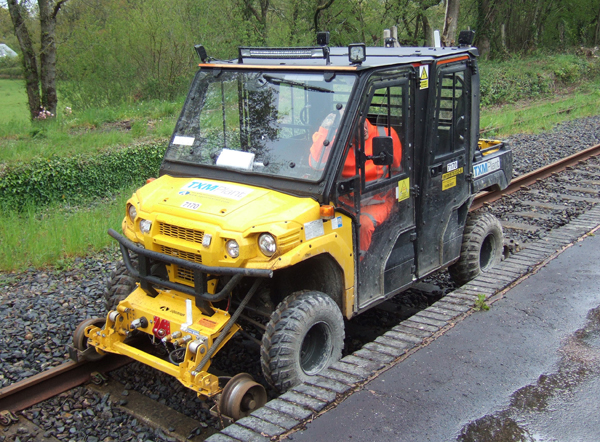 Network Rail Mule on 24 May 2021
This little vehicle was one of the less-common visitors. Note the relative luxury compared
to the old Dartmoor Railway trolley (see image below from 5 January 2015).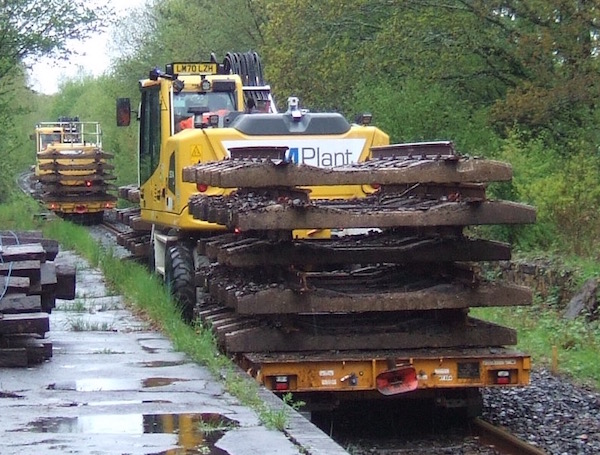 Scrap Rails on 23 May 2021
A busy period of day and night activity collecting scrap rails. Two of the resident Liebherr road-railers
make their way through Bow heading back to Okehampton loaded with rail panels from the eastern
section of the line ready for recycling. There were a surprising number of concrete sleepers. The image
shows a wet platform and verdant greenery following a period of very rainy weather.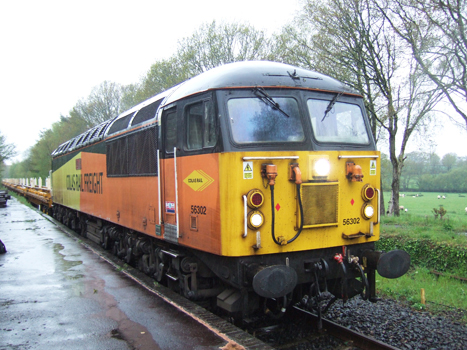 Departures on 13 May 2021
With three trains delivering ballast earlier in the day it turned out to be an exciting evening at Bow Station with no less
than four departures. First away was a double with 66846 and fifteen hoppers together with 70812 with another fifteen.
Hot on the heels was 70811 with yet another fifteen but tailed with 70803; and then finally a visit by 56302 which was
leaving the line with the last remaining sleeper delivery wagons. We can't resist these two shots of the Class 56, one
with spring lambs in the fields opposite and the other with the station as backdrop. The four trains were marshalled
at Yeoford before they all returned, but separately, overnight to Westbury.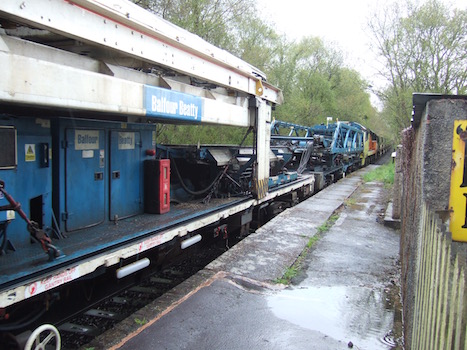 Departure on 12 May 2021
Two views of the Balfour Beatty New Track Construction (NTC) machine departure. It was another very long
train: 70803 with fifteen ballast hopper wagons, 70811 with the NTC components, all followed by a long line of sleeper
delivery wagons. With a 5mph speed limit it was very slow to pass Bow! Once again this train was divided at
Yeoford before the sections tackled the main network from Crediton to Westbury.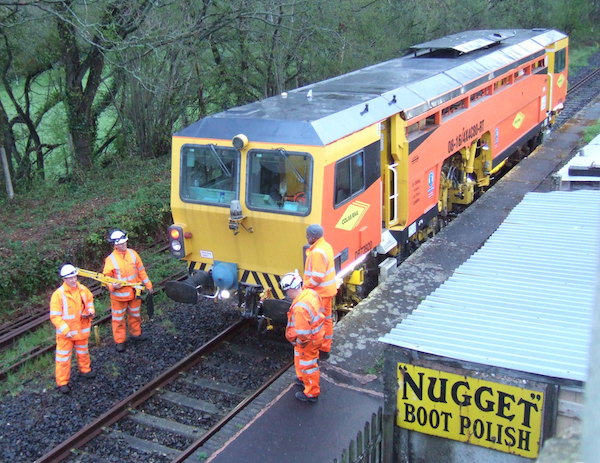 Colas Rail Tamper DR73920 on 9 May 2021
An unusual view from the Stationmaster's bedroom at 6:15am showing the Tamper paused for consultations
at Bow: "So where does this bit go?" The Plasser & Theurer 08-16/4X4C80-RT Tamper arrived early morning
on 7 May to work on the newly laid track between Bow and North Tawton. It was photographed just before
heading back out to Exeter Yard having finished work for this visit, but another Tamper visit was scheduled for
the following weekend (which turned out to be sister DR73924, Plasser & Theurer 08-16/4X4C100-RT).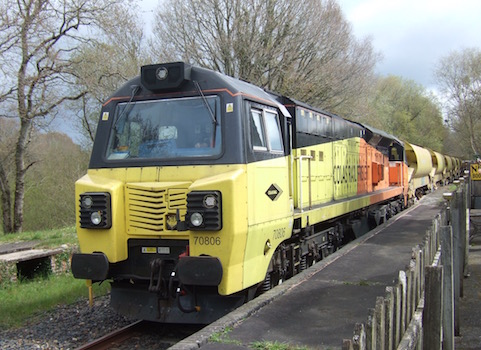 Ballast on 6 May 2021
Colas Rail 70802 approaches Bow with fifteen hopper wagons of ballast, shortly followed by 70806 with another
twenty hoppers, all for the newly laid track from Buttisland Crossing to North Tawton. Colas operate seventeen
Class 70 locos and '02 was the eleventh to visit the line during rebuilding. Only six to go for a full house! These two
trains were followed by a third with yet more hoppers topped and tailed by GB Railfreight 66729 and 66789. It must
be some time since five diesel locos were on the line together (remember 56302 was still in residence). The departures
early the following morning were fascinating: 66789 with one load of hoppers first, followed by an assemblage
of 66729, hoppers, 70806, more hoppers, then 70802. This monster was divided at Yeoford before the sections
joined the main network at Crediton to return to various bases.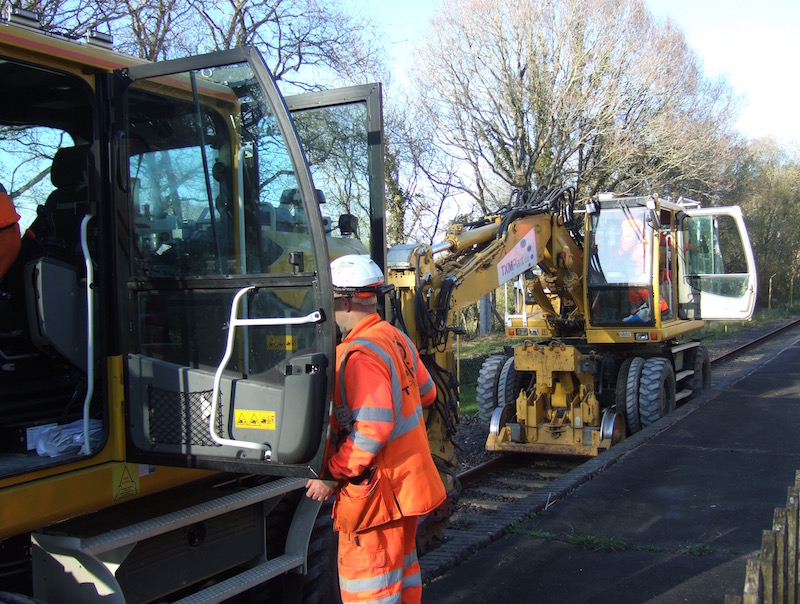 Social on 22 April 2021
Two of several Liebherr road-rail vehicles drop into Bow Station for some welcome
fraternisation. Apparently there are eleven of these working on the line – heavy lifting,
moving rails, cutting and lifting old track, profiling ballast, and requiring gallons of tea.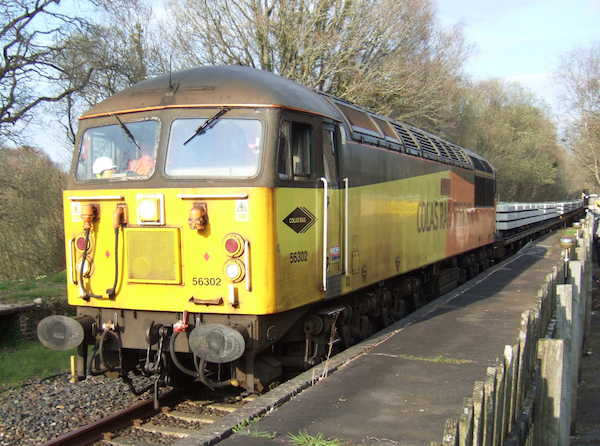 A busy day on 18 April 2021
Lots of passing activity in preparation for the arrival of two deliveries, the first hauled by
Colas Rail 56302 with more sleepers but also the Balfour Beatty NTC track laying machine. It was
followed by 70808 with yet more sleepers. The two were assembled at Okehampton and then
passed again on the way back to their work site to the East of Bow. This was the first recorded
Class 56 to visit the line for at least a decade.
Moving rails on 5 April 2021
One of a pair of small caterpillar vehicles dragging a long rail past Bow station to be sited
ready for the replacement of Buttisland Crossing.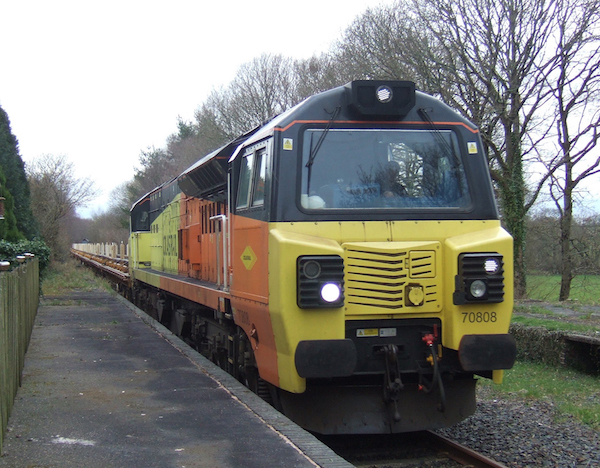 Colas Rail 70808 passes Bow station on 18 March 2021
Paired with classmate 70803 it had delivered yet another load of concrete sleepers to
Okehampton the previous night. The Class 70s were becoming a regular sight.
Class 66 "Chinook" 66723 (aka ZA723) visits Bow Station on 28 January 2021
A rather grubby "Chinook" returns a week later and rests briefly at Bow having
delivered 2,520 concrete sleepers to Okehampton; the train was tailed by DB Cargo
classmate 66039, its planned companion having failed before leaving Westbury the
previous day. Unusual to see GB Railfreight and DB Cargo locos on the same working.
Another ghostly visitor to Bow station just before midnight on 21 January 2021
GB Railfreight 66723 "Chinook" at the tail of a delivery of sleepers bound for
Okehampton; the train weighing in at 1200 tons was headed by stablemate 66748.
Colas Rail 70815 passes Bow station on 14 January 2021
Paired with classmate 70809 it had delivered a load of concrete sleepers the previous night and they were on
their way back to Westbury. Not the most visually attractive class of diesel locos working on British rails.
Ghostly Colas Rail 70813 departing Bow station in the early morning of 26 November 2020
It is shown on the back of a departing rail delivery train (paired with 66849) and was only the second known
Class 70 to visit the line, 70805 (paired with 66850) having worked a similar delivery four days earlier.
Colas Rail Ballast Regulator DR77901 at Bow station on 11 July 2019
A visit to follow up the Tamper tests on the previous day.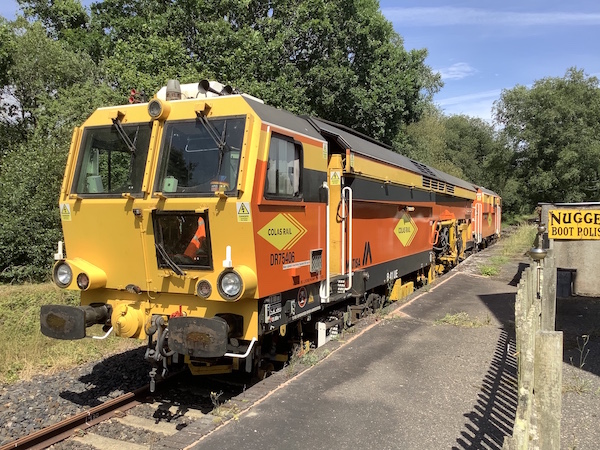 Colas Rail Tamper DR75406 "Eric Machel" at Bow station on 10 July 2019
It visited the line to run rail alignment equipment tests on the continuous welded rail to the east of the station.
Rail Grinding 5-12 January 2018
Rail Grinder set DR79501-07 departs from Bow station in evening sunlight on 10 January 2018. It was
delivered to Dartmoor Railway and retrieved by Hanson & Hall Rail Services' 50008 "Thunderer".
HST to London on 18 March 2017
A beautifully prepared HST set with 43188 leading 43194 crawled through Bow, the failing train
having to be replaced when it eventually managed to reach Exeter St. Davids. This experimental trip,
organised by OkeRail, was followed a year later by another similar excursion to Oxford and Stratford.
Bow 150th Anniversary event on 1 November 2015
Nigel Remmington poses with his impressively restored Class 205 "Thumper" 1118 and guard
Sue Baxter during the 150th anniversary celebrations (image courtesy Tom Baxter).
Jazz at Bow Station on 18 July 2015
One of the line's special events was a jazz train and Bow was a popular evening stop for the band,
who improvised with the station's resident milk churns on percussion.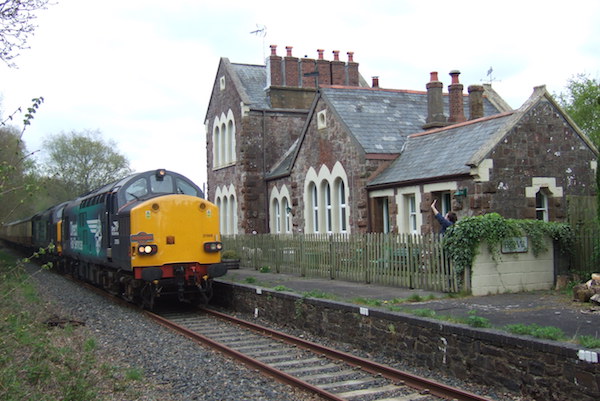 Pathfinder Rail Tour on 25 April 2015
Direct Rail Services 37059 leads classmate 37605 at the head of 12 coaches forming a Pathfinder rail tour.
They merit a friendly wave as they pass Bow station.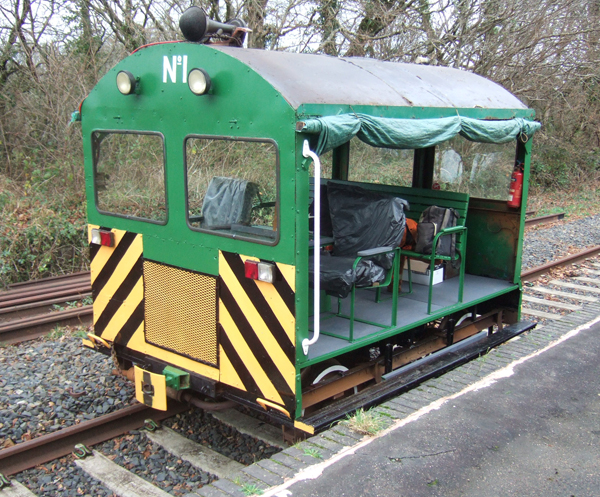 Another visit by the Wickham Trolley on 5 January 2015
The trolley in its newly repainted splendour, just in time for the line's 150th anniversary. The luxuries
of the First Class compartment are apparent.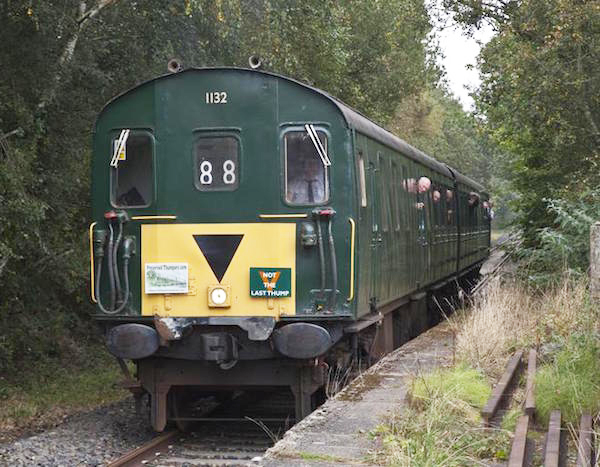 "Not the Last Thump" event on 28 September 2014
The line's resident Class 205 Thumper 1132 approaches Bow during one of a series of special events
run in 2014 on various preserved lines to mark the tenth anniversary of the final withdrawal of the
Thumpers from BR's Southern Region. The Dartmoor Railway joined the mid-Hants, Epping & Ongar,
East Kent, Swindon & Cricklade, and Lavender Line railways with organised celebrations. As a later
postscript, following the demise of the Dartmoor Railway CIC, the line's two Thumpers have subsequently
been sold to the Caledonian Railway and are now very far from home at Brechin in Scotland.
(Photographer unknown, contact us for credit)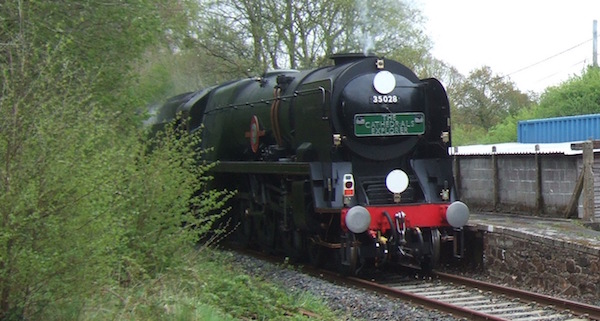 Another interloper on 10 May 2013
An 8-day steam railtour around the West Country titled "The Cathedrals Express" featured a
rare visit to the line by one of Bulleid's impressive Merchant Navy class locomotives. Here we see
35028 "Clan Line" disappearing into the bushes as it departs from Bow, rather ignominiously
on the back of the formation returning towards Exeter.
Class 31 on 17 November 2012
The line was graced by British American Rail Services (or Devon & Cornwall Railways) with
one of their Class 31s to operate the Polar Express for the Christmas season in 2012.
31452 is shown on a precursor visit to Bow with Nigel Remmington as driver. The formation
was complete with 47375 at the Okehampton end.
Visitor on 6 September 2011
Steam railtours have made occasional visits to Okehampton and are always welcome at Bow.
One of the most impressive was 70000 "Britannia" on a gloomy day in 2011, matched by
its gloomy BR black livery.
Class 31 on 5 December 2010
This Class 31 was confusingly numbered D5613 at one end and 31190 at the other. It rests
at Bow on a wintry December day before setting off back to Okehampton.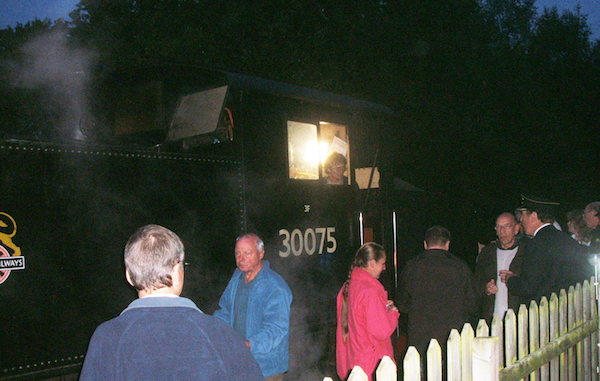 USA Tank 30075 on 5 September 2010
The USA Tank loco was based on the railway for a short time in 2010 and is shown during
one evening visit to Bow station. They were social visits in those days and trips out to Bow
were a highlight for many Dartmoor Railway passengers.
Rail replacement 25 February 2010
Freightliner 66610 double heading with 66605 (and 66617 on the back) as one of the heaviest
trains recorded on the line returns to Okehampton at the end of a busy shift. Job done.
(photograph Peter Chapman). For the full story of the rail replacement job click here.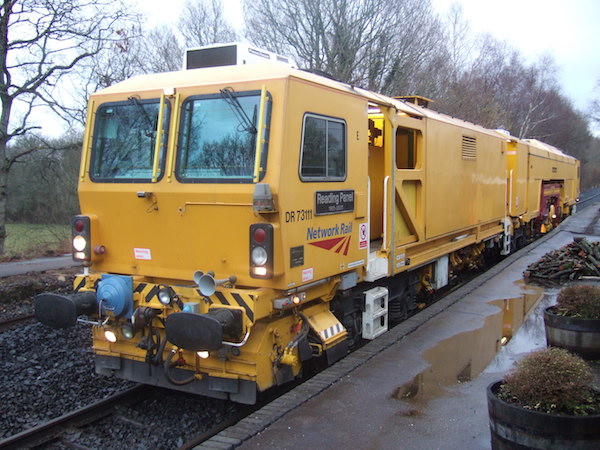 Network Rail Tamper DR73111 "Reading Panel 1965-2005" on 24 February 2010
Another Plasser & Theurer 09-3X-D-RT Tamper at work after the rails had been replaced.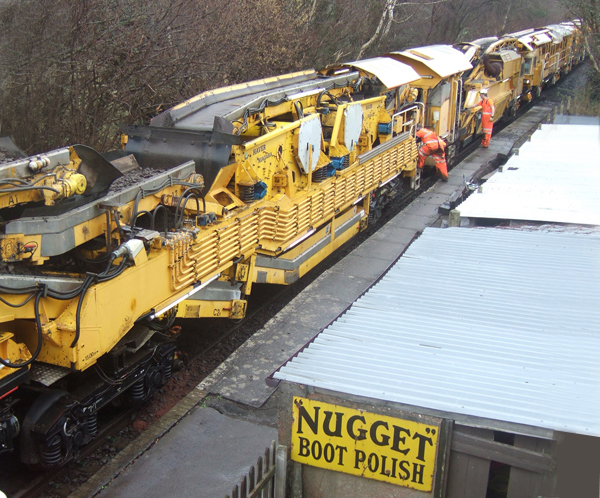 Rail replacement 23 February 2010
Two grandstand views of the train working during its second pass.
Network Rail Regulator DR77903 "Frank Jones" on 22 January 2010
Also involved in the new track work was this Plasser & Theurer USP-5000-RT Ballast Regulator.
Network Rail Tamper DR73114 "Ron Henderson" on 22 January 2010
Relaying the track around Bow station involved a number of different vehicles including
this Plasser & Theurer 09-3X-D-R Tamper.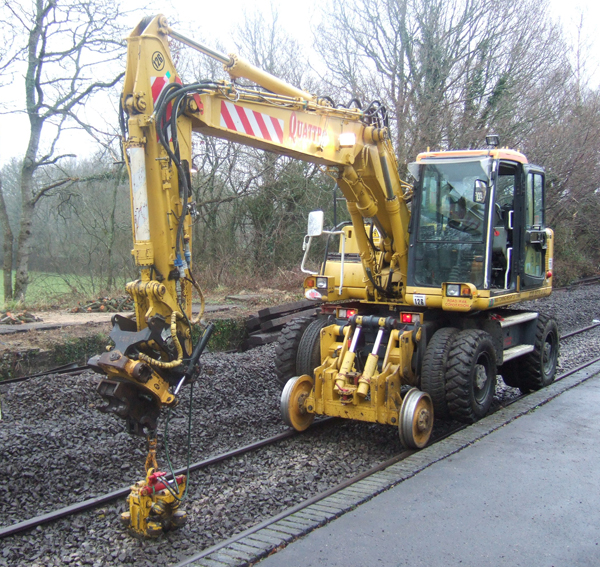 Rail replacement 21 January 2010
One of the road railers used to position the rails and to profile the ballast.
Rail replacement 17 January 2010
The rail replacement train on its first run, making very slow progress past Bow Station. Workers
underneath were cutting the old rail clips as the train progressed.
Rail replacement 16 January 2010
The great excitement early in 2010 was the replacement of a mile of old track with continuously welded
rail, the occupants of Bow station having a grandstand view of the work involved. This shot shows
Freightliner 66624 arriving with the rail replacement train for a first pass. The old track had to be replaced
first due to problems with the rail clips. The new track was then in turn replaced as a training exercise
before the trainees could work the equipment on the main network.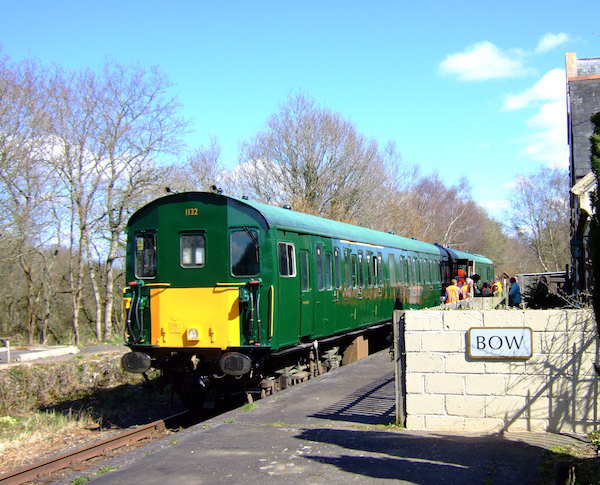 Dartmoor Railway "Thumper" in March 2009
One of many visits by Dartmoor Railway's popular Class 205 "Thumper" 1132, running in 2-car
formation missing its centre coach. Its fellow classmate 1128 was still languishing unrestored
at Meldon Quarry in 2020.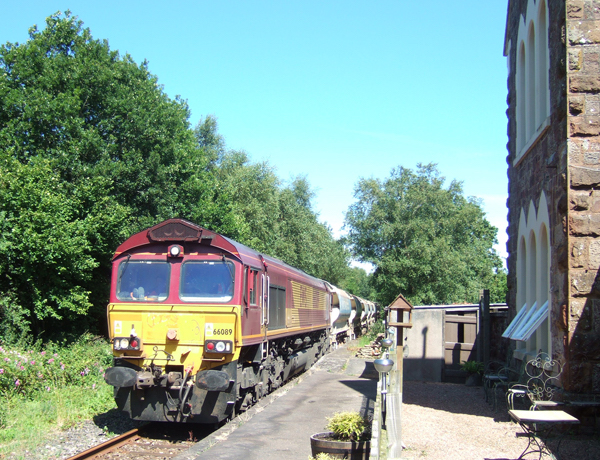 Stone train in July 2008
For some reason we rarely photographed the stone trains but here we have EWS 66089 on
its way to Meldon. We kept records and have notes of at least 98 different EWS Class 66 locos
plus 47 from Freightliner (thanks Ross!).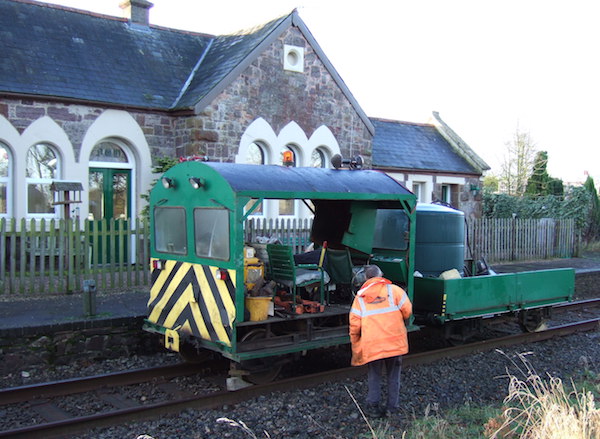 Wickham Trolley pauses on 27 January 2008
The line's workhorse Wickham Trolley receives some attention resting at Bow during a weed-killing duty.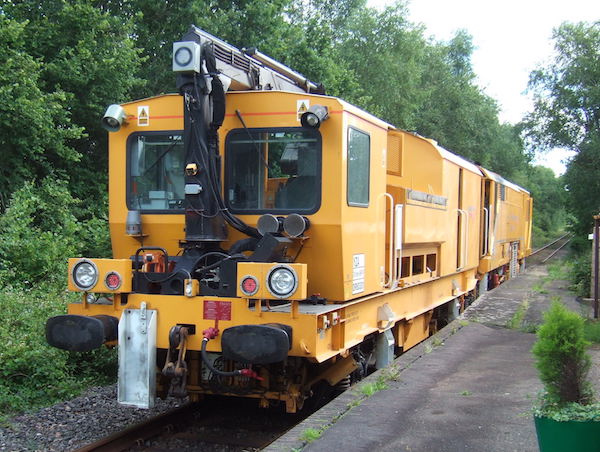 Network Rail Stoneblower on 7 July 2007
The line was often used for tests by Network Rail with a variety of vehicles seen over the years. This
is Stoneblower unit DR80301 at the eastern end of the Bow platform.
Class 08 "Bluebell Mel" on 2 June 2007
The Meldon Quarry Class 08 Shunter, 08937 "Bluebell Mel" visits Bow in June 2007. The loco
was later to be significantly restored as D4167 in BR green livery.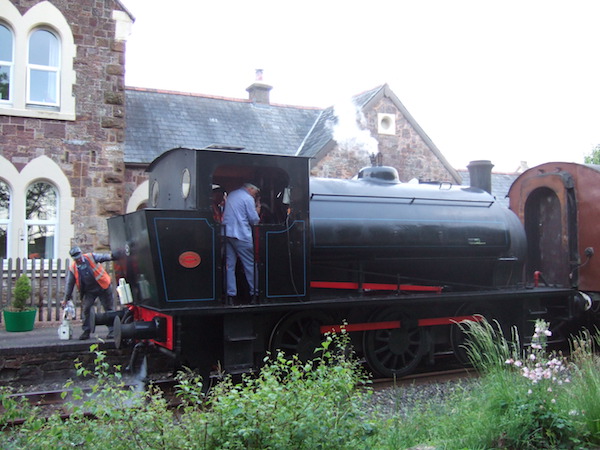 Visit by "Darfield" on 26 May 2007
One of the relatively rare visits of Dartmoor Railway's then resident steam loco "Darfield No.1".
Driver Gerald Smallacombe attends to some maintenance while everyone else enjoys a break.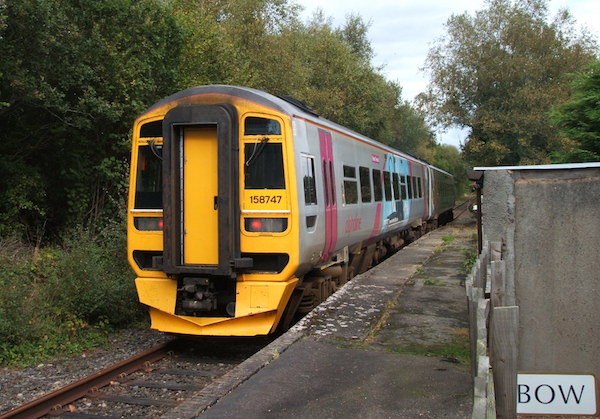 Another Sunday Rover on 7 September 2006
The Rover used a variety of DMUs during the years up to 2019. In this 2006 image we see a smart
Class 158 although the ancient Class 143 Pacer units were sadly to become quite common later on.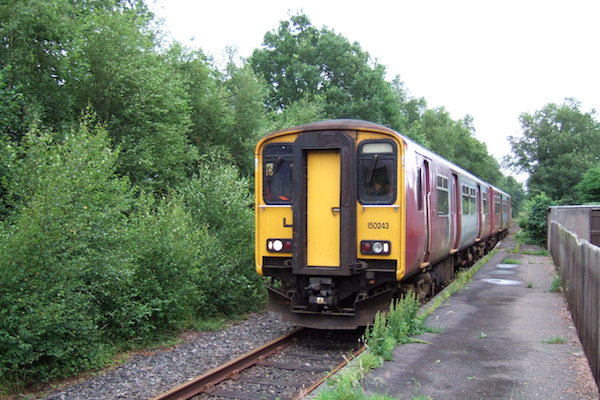 Sunday Rover in July 2006
For many years Devon County Council provided finance for a Sunday service between Exeter
and Okehampton. This image from 2006 shows not only a Class 150 DMU but also the extent of
the foliage at the time, subsequently significantly cleared.
February 1985
Images of trains at Bow after the closure and before the resurgence of Dartmoor Railway are proving elusive. Here we have an unidentified Class 33 passing through Bow heading for Meldon with hoppers and track panels (image copyright and courtesy Pete Doel).
2 June 1972
Class 122 Bubble car 55018 numbered as unit P118 sets off from Bow on the 15:35 service
from Exeter St. Davids to Okehampton (image courtesy Bernard Mills).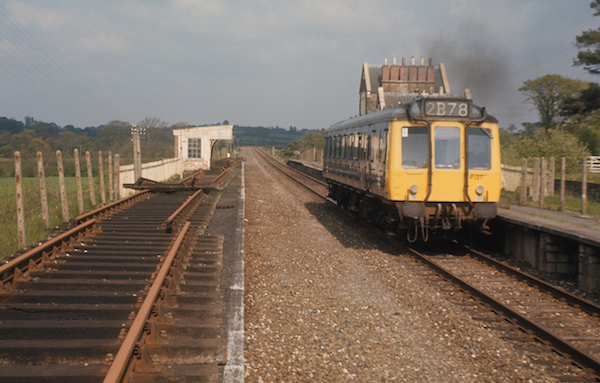 May 1972
Class 121 Bubble car 55027 numbered as unit P127 sets off with a cloud of diesel smoke from
Bow. We hope "Western Hero" was not coming the other way! (image courtesy Bernard Mills).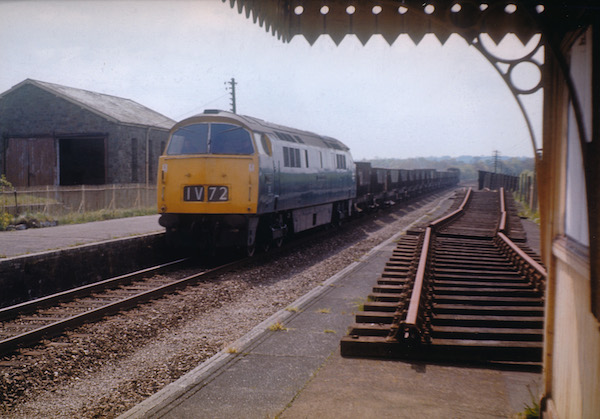 16 May 1972
Class 52 diesel-hydraulic D1020 "Western Hero" approaches Bow with a load of ballast
from Meldon Quarry bound for Salisbury. Note the lifted track panels on the up platform;
singling of the line had begun in Autumn 1971 (image courtesy Bernard Mills).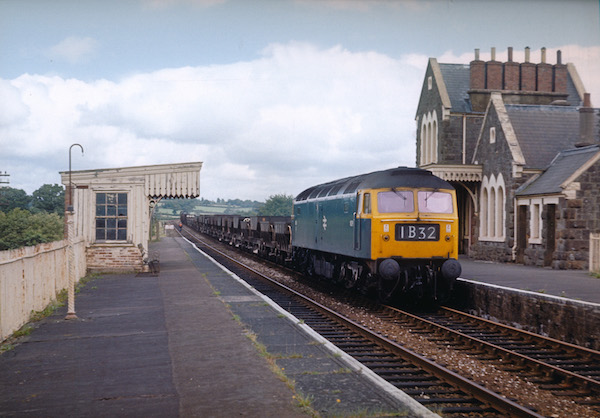 16 July 1971
Class 47 D1636 (later numbered 47482) passes Bow returning a load of empty trucks
to Meldon Quarry (image courtesy Bernard Mills).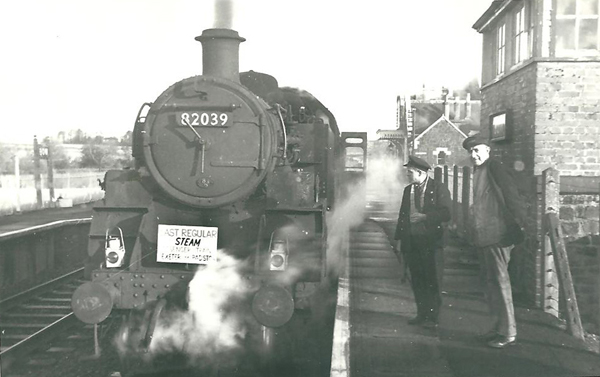 2 January 1965
The last steam train from Exeter to Padstow pauses at Bow with Standard Class 3 2-6-2T 82039 in charge
and presumably the driver and guard looking on. The headboard reads "Last regular steam passenger train,
Exeter to Padstow" (photographer unknown, image courtesy Tim Miles). Further details would be welcome.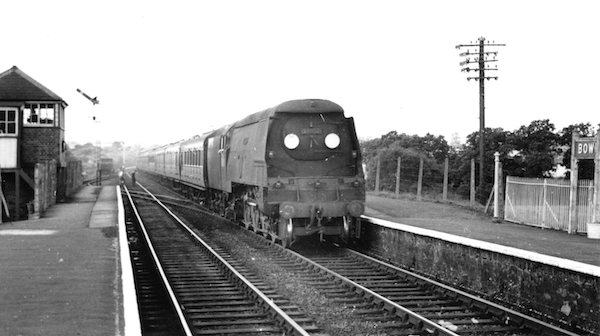 15 August 1960
The up Atlantic Coast Express headed by Battle of Britain class 34057 "Biggin Hill" thunders
through Bow in 1960 with a friendly wave from the driver (image courtesy Graham Bowden).
We would be grateful to hear about any other images of Bow Station and visiting trains.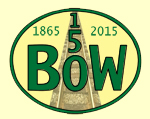 Website
If you have any information or material relevant to the station we would love to hear from you (contact us).