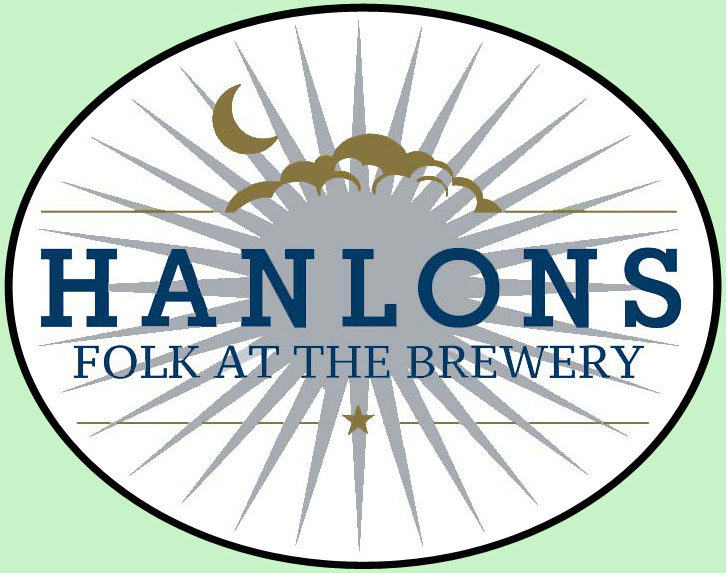 Folk at the Brewery
Winter 2016
Tuesday 13th December 2016
Hanlons' Half Hours: Tom & Barbara Brown, Steve Gill
Guest MC: Nicola King
Craft: Uguna Flutes (Geoff Norman)

Tom & Barbara Brown

have been singing together since 1969. They specialise in songs of the West Country, but their repertoire covers a huge range of traditional and some modern material. Tom plays guitar, mandola, concertina and melodeon, and is also a caller. They run Shammick Acoustic in Combe Martin and are involved in numerous other local folk projects – mummers, shanties, CDs, workshops, Moor Music, the Devonshire Association, etc. They had to cancel most of their gigs in 2016 due to illness, so we were delighted they were able to perform at Hanlons and wish them a healthy 2017.
'November Drinking Song'
'Young Girl Cut Down in Her Prime'
'Two Brethren'
'A Minehead Lad'
'The Christmas Hare'
'Tip O' Derwent'
'Poison Beer'
'One and One'
'Sea Shorts Set'

Steve Gill

first encountered folk music as a 16-year old schoolboy and bought his first melodeon at 21. He met his wife Anne

at the Torquay folk club

and they ran that club for a few years before starting clubs at Totnes and Brixham. They set up the Teignmouth Folk Festival 19 years ago with a small committee and are still heavily involved. Steve has played for Morris and in various ceilidh bands, currently with The Mooncoin Ceilidh Band with Nick Scott, Sophia Colkin and Andy Clark, with Anne as caller. He loves traditional music and song but also contemporary material in similar style, some now self-penned.
'Old Glory'
'Waiting for the Day'
'Waiting for the Ferry'
'Penny Wager'
'Follow Me, Follow Me 'ome'
'Anderson's Coast' (with Charlie Wilson)
'When I'm Sixty-Four' (with Charlie Wilson)
'Mr Story-Teller'


Nicola King

has been singing

in the folk clubs of mid-Devon for the past ten years or so, but also in choirs such as the Crediton World Music Choir. She loves English (and Scottish/Irish) traditional songs but also some contemporary material inspired by Nic Jones, June Tabor, Hannah Martin and others. She is Secretary of Pennymoor Singaround (co-organiser of Bampton After the Fair and Song and Ale) and writes CD and concert reviews for What's Afoot and the Sidmouth Herald (Folk Week concerts).
'Ditchling Carol

'




'

Winter King'

Geoff Norman's

journey began in 1998 when he came across Robert Tree Cody playing a red cedar flute. He started to make flutes in 1999, after attending a workshop in Massachusetts, and now creates uguna flutes in Okehampton, on the northern fringe of Dartmoor. Uguna flutes are highly individual, each taking twenty hours or more to make, entirely by hand, from Western Red Cedar, Eastern Red Cedar, Alaskan Yellow Cedar, or Sequoia, all classic woods for flute making, their reverberating tones typifying the native American flute.
Winter craft theme: Hand-made uguna flutes
Floor performers:
Alan Rosevear: 'When the Snows of Winter Fall'
Joan Holloway: 'The Season of Holly and Ivy'
Dave Hopkins: 'South Australia'
Jane Snow: 'Christmas is Now Drawing Near at Hand'
Paul Watts: 'Oh! That Gorgonzola Cheese'
Helen Tuffin: 'If I Was a Blackbird'
Geoff Norman: 'Winter Solstice', 'Kisaka'
Dave Brassington: 'The Boar's Head'
Hazel Underwood: 'Jacobstowe Wassail'
Dick Hogg: 'The Bricklayer's Song'
Jan Hinchliffe: 'Summon Up the Sun'
Roger Smith: 'You Got to Walk That Lonesome Valley'
Jenny Norman: 'The Wren Boys' Song'

Dick & Mellie Henrywood: 'Goodnight Song'
A selection of feedback comments received after the session:
"We thoroughly enjoyed ourselves, and thank you for the opportunity … I can't see what you can do about the lack of comfort – but the atmosphere (and warmth!) of the room is lovely. We'll probably be down again in March – as all three of the guests are really good friends of ours, it will be a treat! Thanks again for last night – it really was well worth it!"
"We both enjoyed the night, thank you, and hope it continues, we like the atmosphere. Looking forward to the next one and will hand out flyers."
"I left Hanlons feeling it had been a good singing night - both your invited slots went well - well judged."
"I really enjoyed it and was quite happy for it to be a bit smaller than usual, for my first go at it! It was a lovely welcoming crowd. I very much hope to come to Hanlons again in March."
"I do enjoy Hanlons, the people; the songs; the music and of course – the beer, so very many thanks for all the effort you both put into it. It is good to have a recording of the events – history in the making. We do need to encourage young'uns to attend and get up and sing/play – maybe that can be Folk At The Brewery's new year resolution."
"I really enjoyed it - thanks for asking me to do it! I think it's probably all been said - a really successful and enjoyable series of sessions!"
"My thanks to you two for organising these really enjoyable nights. It was another really good night and Steve and The Browns did really well-planned and well-sung material. I've got that number/counting song by Tom Brown still bumbling around in my head! Thanks again for your efforts."
"Enjoyed ourselves at Hanlons - thanks for the invitation."
"Keep up the good Hanlons nights."
––––––