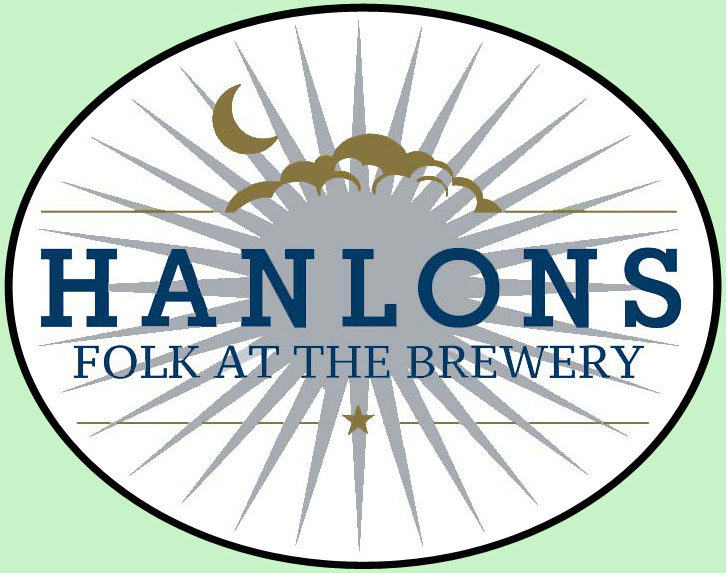 Folk at the Brewery
Winter 2015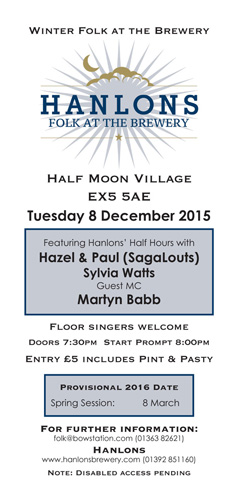 Tuesday 8th December 2015
Hanlons' Half Hours: Paul Watts & Hazel Underwood (SagaLouts), Sylvia Watts
Guest MC: Martyn Babb
Craft theme: Spinning and Weaving
Paul Watts and Hazel Underwood

(SagaLouts) have a varied repertoire, but songs in the music hall tradition are their forte – cleverly writing their own material in the genre too. Whether being pushed into the parlour, over-exercising or wearing baggy trousers, every performance is a gem. Paul and Hazel run a monthly session at Sandford.
'Oh, Joe! The Boat's Going Over'
'Poor John'
'Me Trousers are Too Big'
'It's a Great Big Shame'
'I'm Getting on a Bit (Exercise)'
'All the Good Times are Past and Gone'

Sylvia Watts

is a singer / songwriter of fine traditional form and is well regarded on the national folk scene, appearing as both artist and compere at clubs and festivals. She lives in East Cornwall and sings regularly at sessions in Metherell and Sticklepath. Sylvie was artistic director for the Celebrating Cicely concert in 2014.
'Tamar'
'Berkshire Tragedy'
'Ivy Queen and Holly King'
'Sussex Shepherdess'
'Nearer to Nettles'
'Homeward (Home Lad Home)'


Martyn Babb

(happily recovered) is great fun. Involved since the early days at Cyril Tawney's club in Devonport, he now lives in North Devon and is well known on the folk circuit as a charismatic, versatile MC and entertainer. A proponent of sharing and inclusion, Martyn describes his singing and music as eclectic – a broad spectrum.
'Turn Ye Seasons, Turn'
'It's a Smugglers Life for Me'

"The crafts of spinning, weaving and dyeing are as ancient as our history; they are the threads that bind us to our ancestors and to each other."

Sarah Johnson

(weaving) and

Christine Murray

(spinning) demonstrate their craft. Sarah runs a group in Sandford for spinners, weavers and knitters to meet up, swap ideas and inspire each other.
Winter craft theme: Spinning and Weaving
Floor performers:
Steve Thomason: 'Kettleshulme Weaver'
Dave Hopkins: 'Union Miners'
Mike Longhurst: 'Oh, Good Ale'
Nicola King: 'Winter Comes In'
Derek Moore: 'Branscombe's Loaf'
Jane Snow: 'Christmas is Now Drawing Near at Hand'
Steve Gill: 'Egmond Souling Song'
Rosie Longhurst: 'Twiddles'
Roger Smith: 'A Maid in Bedlam'
Jenny Newburn: 'Frost Diamonds (Gordon's Song)'
Dave Brassington: 'The Blarney Roses'
Eileen Conn & Jackie Williams: 'The Cherry Tree Carol'
Gideon Barrett: 'Gamekeeper'
Dick & Mellie Henrywood: 'Goodnight Song'
A selection of feedback comments received after the session:
"Wasn't it a brilliant evening, I hope we didn't do any damage to the Brewery, raising the roof was certainly on the cards! Big thanks again to the organisers, it must be a good "do" to have so many from the Devon folk clubs get together. Such a friendly evening."
"Thanks for inviting me. I enjoyed it v much."
"Regarding the layout, I liked it, and it does up the seating capacity; 4 to a bench is comfy and would allow 64 people to sit down. However, I did receive some feedback people would have liked to get more beer, but felt they couldn't 'til the interval. It does raise a valid point about not being able to get to the bar."
"Well done again. We were quite pleased with the drape as well - the right colour for the stars. Interesting having the venue around the other way - seemed to work. Some comments around about the heat/air, but that's all. The pasties - yes, t'was a bit awkward but not too bad - and they were still hot by the time I ate one. I thought that all went really well, all the floor singers were good and both acts were great."
"We didn't detect anything amiss at all on Tuesday! It was an absolutely brilliant night, as usual, and the pasties were smashing. It's such a super atmosphere as well, everyone is so friendly. We have already bought our tickets for 8 March – daren't miss out! Isn't it absolutely amazing the amount of talent out there? We're really privileged to be able to experience it. We'll be looking forward to seeing you in March."
"It was a really good evening, enjoyed it!"
"Slightly fewer people so somewhat less of a squeeze. I agree that the layout was better. Shame about the pasties, but they were still good and hot. It would have been better if they'd left them on the bar until the end of Sylvia's set."
"Well done for another great evening - layout of room was much better."
"We enjoyed our evening and look forward to the next!"
"Thank you for inviting me, I really enjoyed a very good evening. I am pleased that you liked the scratch band, I always feel it's a good way to bring a room to order, and gives musicians a chance to have a little thrash together, and if they have just come in from the cold, a chance for the audience to warm their hands. Of course we shall come to Hanlons again, next time as part of the Pennymoor chorus and I would be more than happy to do a Half Hour at some time in the future. The issue of serving of pasties didn't bother me, but it was a shame for Sylvie as she was gearing up for her finale, and perhaps was a distraction ... but still a grand evening."
"It was a good session at Hanlons, a more cheerful one than usual folk clubs, and ruder! (viz Gideon!) I liked the mix of weaving and seasonal too. I could see your smiling faces when you were listening to our carol - very encouraging! So I'm glad you liked it. Thanks for the organising of Hanlons and I think people are beginning to know your farewell song now."
"Another good evening, I thought, with loads of variety (and talent). I don't eat the pasties myself and did think it was a bit of a shame that their arrival interrupted Sylvia's set. Having said that, it wasn't all down to the venue: I was surprised that some people didn't have the sense/manners to wait until she'd finished before trying to make a move towards them and that you needed to speak up. Still these things happen and you dealt with it quickly and effectively."
"Unfortunately, it just didn't work for me and by the close of the first half we decided we would slip out at the interval. I think the main problem was the seating arrangement. Previously the set up was great. It held that 'camaraderie' atmosphere desired of a 'Folk night', despite being a large room, with a high ceiling etc. People were able to converse, smile, laugh, feel part of a folky occasion. They were also able to get up and refresh their glasses without a struggle and without it feeling that they were disturbing the performers at any time. This time it felt as if we were in a 'concert'. We were trapped in our rows of seats, only able to converse with people very close to us in the row and rather 'formal'. It was very hot, and many glasses were empty .... but no one could squeeze out past others without making a fuss, or without seeming rude to the singers. Something in the ambience was really missing. I know that you like feedback, so I hope you don't mind me being completely honest. I hope it is useful. Sorry that it isn't as positive as with previous nights."
"Yes it was a great evening on Tuesday and we both enjoyed it. Please keep it going – there is a great need to bring the singers of traditional song and music together as it is very diluted in our area. Thanks again for organising."
––––––