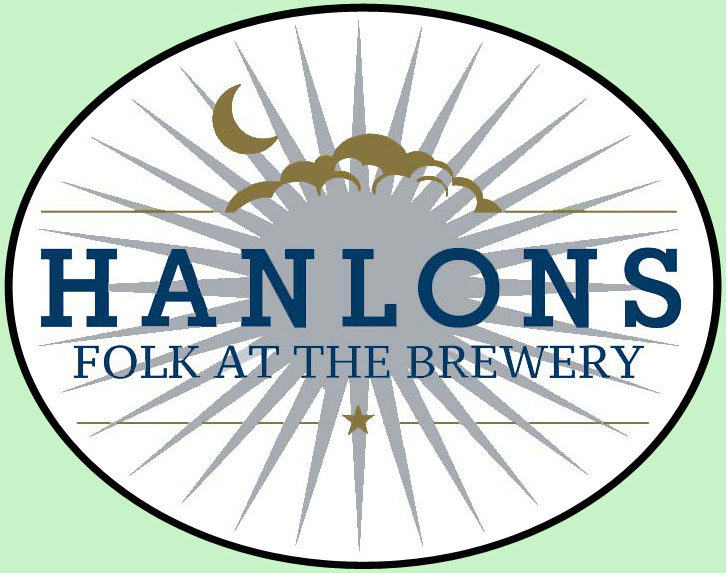 Folk at the Brewery
Summer 2015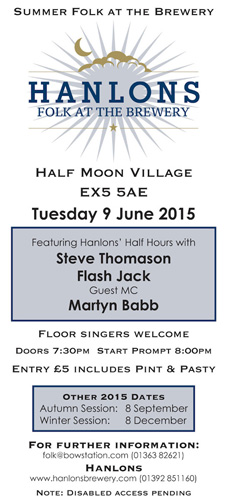 Tuesday 9th June 2015
Hanlons' Half Hours: Flash Jack, Steve Thomason
Guest MC: Alan Rosevear
Craft theme: Face Masks
Based in Plymouth and East Cornwall,

Flash Jack

perform "Songs of Love, Lust & Loose Living!" Regularly booked at national Shanty and Folk Festivals, we were thrilled The Flashers agreed to launch Folk at the Brewery. For details click here.
'Haul Away Joe'
'Seth Davey"
'Three Jolly Fishermen'
'Hopping Down in Kent'
'Roll the Woodpile Down'
'Bye Bye My Rosie-Anna'
'Being a Pirate'

Steve Thomason

retired to Devon in 2009 ("Leicester's loss is Exeter's gain"). He is an outstanding singer with a fine repertoire of traditional and self-penned songs. Modest and unassuming, we were delighted to persuade Steve to do the very first Hanlon's Half Hour. A firm believer in the aural tradition, you can hear his songs on Soundcloud.
'White Hare'
'Napoleon'
'Dartmoor Rivers'
'Ben Hur'
'Tinners'
A massive thank you to

Alan Rosevear

who swapped with Martyn Babb at late notice and so went without due publicity ('A303 Highway to the Sun' on BBC4, anyone?) Alan embraces our national traditions with enthusiasm (e.g. click here), and is noted for fine unaccompanied singing at many folk clubs in the region.
'Thousands or More'
'Plains of Waterloo'

'Paper Face' was chosen as our craft theme for the Summer Session to get us all in festival mood.

Teresa Rodrigues

can be found with fantastic hand made masks and crafts regularly at Crediton Farmers' Market, or call 01363 85369. Thank you Teresa!

Summer craft theme: hand-made paper face masks
Floor performers:
Peter Beer & Jenny Newburn: 'The Briar and the Rose'
Gareth Hedges: 'Angie' (guitar instrumental)
Jackie Williams & Eileen Conn: 'Three Jolly Sailors' / 'The Jolly Sailor'
Peter, Maggie & Martyn Cornelius: 'Tall Ships'
Nicola King: 'Elegy'
Dave Lowry & Bill Crawford: 'Tedburn Hill'
Ollie Holland: 'Man o'War'
Leith Whittington: 'Cock-a-Doodle-Doo'
Hazel Underwood: 'Harriet Tubman'
Keith Beeby: 'Jack of All Trades'
Derek Moore: 'Mary Anne'
Paul Watts: 'She Pushed Me into the Parlour'
Joan Holloway 'Bright Star'
Dick & Mellie Henrywood: 'Goodnight Song'
A selection of feedback comments received after the session:
"Great club, great beer! Many thanks for having us. Great venue."
"Proper job! Nice pasty!"
"Oh my! What a wonderful, wonderful evening last night! Thank you all the singers – in fact everyone who made the evening absolutely great! Good beer and pasties too!"
"See you in September!"
"We really enjoyed ourselves. It was a fantastic evening. The feedback we both got was good."
"Terrific, much like the sessions in the 60s. We certainly rattled the rafters with 'The Death of Nelson'."
"What a great night and a great start to a new venue. The performances were as brilliant as were hoped for."
"The choruses just lifted that roof. Well done to all who performed."
"All went really well, all the floor singers were good and both acts were great."
"A brilliant night and great to get such a good audience - the contrast between Steve and Flash Jack was perfect and ALL the floor singers were good! I really enjoyed it."
"A great time last night. We wish you all the best for the future of 'Hanlon's Half Hour' and will pass on details to anyone interested."
"Your crowning glory – what a smashing night. I think you would call it a resounding success, so to whomever – thanks, these things don't just happen."
"Really enjoyed it. Well done!"
"Great venue. May be a problem if it gets more popular!"
"There was an indefinable buzz about the evening and would like to thank everyone who helped create it."
"Very successful; a full house and everyone seemed to get into the spirit of the singing. Flash Jack were a really good choice to end the evening – I noticed they even had the landlady/barmaid engaged at some point! The standard of floor singers was also excellent – no music stands; no rambling introductions; no forgotten words or singing out of tune: any one of them could have been a guest."
"I loved the masks – I hope the lady who makes them got some sales out of it. I'm sure the corn dollies will be a success. So congratulations."
"What a fabulous event! Everything about it worked perfectly! The venue was ideal, I thought. A good open size, but that feel of camaraderie set by having the huge tables for folk to sit around. Apparently the beer and cider were good, pasties were very welcome."
"The sound was just thrown up and around and vision was really clear, without the imposing feeling that a stage can give."
"It has set a admirable standard and people will be talking about it for a long time. Great singers with a good idea of mixing open and performers."
"I thoroughly enjoyed myself and looking about me, could see that every one else in the room did too. Well done! Make sure you set me some tickets aside for September! I think it might be a sell out!"
"A really fantastic evening, great fun. I was on such a high when I left that I didn't get to sleep till 3.00! Everyone was saying how good it all was."
"Nice to get the chance to see and hear friends from other clubs. Can't wait for the next one: I think you have set the standard now, and people will come again in September."
"Brilliant night! Congratulations to all concerned. Will certainly pass the word on and already have the September date in our diary!"
"Many congratulations to you all - it's going to be a hard act to follow but with that type of support I'm sure you/we will succeed. If words gets around as I'm sure it will you will have to pre-sell the tickets."
"A great event and we look forward to September."
"Well done! Brilliant idea. I look forward to being at the next thrash. What fantastic comments. Excellent."
––––––