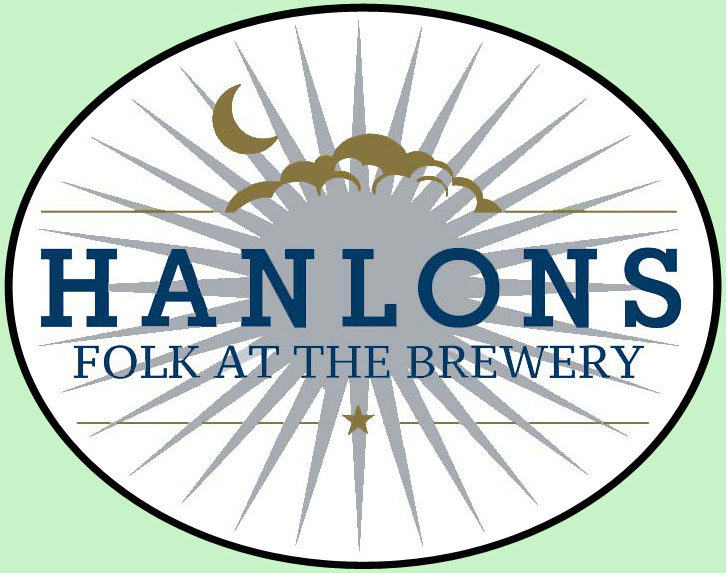 Folk at the Brewery
Spring 2017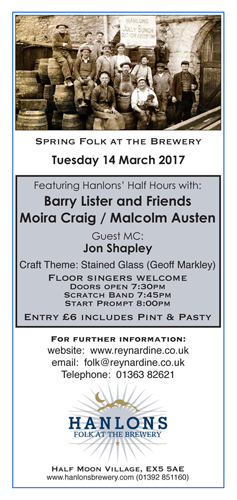 Tuesday 14th March 2017
Hanlons' Half Hours: Barry Lister and Friends; Moira Craig and Malcolm Austen
Guest MC: John Shapley
Craft: Stained Glass (Geoff Markley)

Barry Lister

has been described as one of the best ballad singers in the country. He was joined by local friends Sean O'Shea, Dave Lowry and Bill Crawford, performing traditional British material, in full harmony. These friends have been singing together since the 1960s folk revival 'Jolly Porter' era, performing over the years variously as soloists, duets and in groups such as 'The Oakleaves', 'Isca Fayre', 'The Songwainers', 'Hollinmore' and most recently, 'The Claque'.
'Trim-Rigged Doxy'
'The Manchester Angel'
'The Miller and the Maid'
'Limadie' (with Sean)
'Long Lankin' (with Sean)
'Hunting the Hare' (all)
'Bold Riley' (all)
'Gossip John' (all)

Moira Craig and Malcolm Austen

are both very well known on the folk scene, Moira, performing mostly traditional Scottish songs and Malcolm with his great repertoire of songs from the music halls and old singers like Pop Maynard. On the odd occasion when they sing together you can never be quite sure what you're going to get! Moira is originally from Scotland, and Malcolm from the Kent/Sussex border.
'The Saucy Sailor'
'Mary's Dream'
'Wycombe Caning Girl'
'Banks of Green Willow'
'Sailor's New Leg'
'Chocolate Song'
'Coal Not Dole'


Jon Shapley

sings unaccompanied (favouring songs with a good chorus) and plays piano accordion. A graduate of the Newcastle folk degree course, he is very active on the folk scene, both locally and nationally. He is Chairman of Pennymoor Singaround, plays for the Appalachian dance side 'Firestone', regularly attends Celtic Connections and can be seen at many festivals managing 'thewholewideworld' CD stall.
'Limehouse Reach

'




'

Goodnight-Loving Trail'
Originally from East Devon,

Geoff Markley

now lives in Bow. A carpenter by trade, he works in stained glass mostly as a hobby, but is interested in bespoke commissions. Geoff is a true craftsman, creating his pieces from scratch; measuring, drawing, designing, cutting and joining every piece of glass with very fine solder beading. His stunning work on display included panels, lampshades, vases and … a cheese-dish!
Spring craft theme: Stained Glass
Floor performers:
Dave Hopkins: 'Dolton Boys'
Sylvia Watts: 'Sussex Shepherdess'
Dave Brassington: 'Leave Her Johnny'
200 Hurts: 'Poor Thomas and the Mary Rose'
Roger Smith: 'When I'm Cleaning Windows'
Anne Gill: 'Captain with His Whiskers'
Eileen Conn & Jackie Williams: 'Flash Company'
Leith & Sandie Whittington: 'Snow Falls'
Steve Gill: 'Banks of the Nile'
Mike Warman: 'Brisk Young Widow'
Jane Snow: 'Rocking the Cradle'
Steve Vernon: 'Thuthie'
Paul Walker: 'Kerry Recruit'
Joan Holloway: 'Hooks and Nets'

Dick & Mellie Henrywood: 'Goodnight Song'
A selection of feedback comments received after the session:
"Another hugely enjoyable evening with such a range of styles and great talent. Thanks!"
"What a wonderful, wonderful evening again last night at Hanlons! There is certainly a great deal of superb talent about, which we are always privileged to experience. Evenings at Hanlons Folk at the Brewery always take us out of ourselves. The entertainment is first-class, the beer is of the very best and wonderful pasties too! We feel we have made a lot of lovely friends - they are all wonderful friendly people ... Many thanks to both of you and all those involved for all the pleasure Hanlons Folk at the Brewery evenings has given us."
"I'll tell you how much I enjoyed the evening. It was for me quite wonderful, all the old faces from t'otherside of Exeter. Sean's harmonising with Barry Lister's wonderful voice is quite shiver-down-the-spine. Jackie has always sung beautifully and the two as a duo are enchanting. 'The Shepherdess' is haunting me, and the couple from Wellington, beautiful; I was enthralled."
"It was a great night, I thoroughly enjoyed it. I think Barry & Sean's rendition of Long Lankin was the best I have ever heard it sung; real drama bought a great story to life."
"We enjoyed the club, thank you, even though we had trouble finding it. Let me know about the next one and I will check if I'm free."
"We really enjoyed coming over and found the welcome and friendliness of the evening a real joy. It was a long way but worth every inch! The floor singers and the Hanlon's 'arf hour folk where truly amazing."
"Can I make a suggestion? I would publish positive and cautionary advice to eradicate the singing of a song that mocks disability, which is what lisping is."

"A big thank you for organising a great night. We both thoroughly enjoyed it. A great venue for singing."
"What a cracker of an evening! There was a song to cover everyone's taste, chocolate, coal mining, a shepherdess, The Mary Rose, a night visiting song, just to give a flavour! The singers too covered all the bases, the electrifying "200 Hurts", the soft harmonies of Jackie and Eileen to the more forceful from the quartet of Barry Lister, Sean O'Shea, Dave Lowry and Bill Crawford. The beautiful rendition of "Who Would be a Shepherdess" by Sylvia Watts was stunning, and didn't we all enjoy joining in (subdued) with the chorus! Many thanks for organising yet another wonderful evening."
"Well done both, we thoroughly enjoyed our evening. We were disappointed not to have heard more from Barry and friends."
"A most memorable evening - superb guests - especially Barry Lister and Sean O'Shea, who are a stunning combination. The place was comfortably full but not too full, the beer was excellent and you get a pasty too! We drove for 3 hours for this event and it was well worth it".
"Excellent singing and good company. Jon ran it well."
"I thoroughly enjoyed the evening and commend your organisation and vision. Love and admiration."
"I really enjoyed the evening and it was great to catch up with Malcolm and Moira again."
"We had such a good night."
"We really enjoyed the evening, thank you for making us feel so welcome. We hope to see you again, it's quite a way to come sadly, but even for just one song it was worth it."
––––––