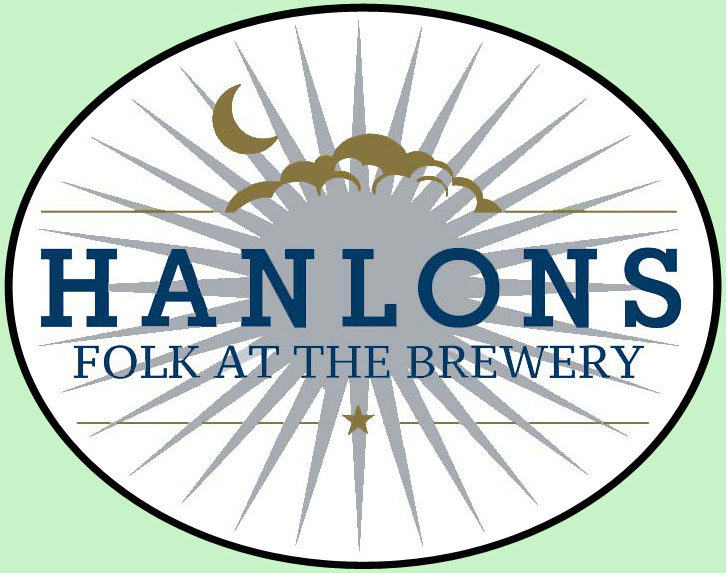 Folk at the Brewery
Spring 2016
Tuesday 8th March 2016
Hanlons' Half Hours: Roger Smith, Pennymoor Chorus
Guest MC: Leith Whittington
Craft theme: Lace-Making
Roger Smith,

who has described himself as a "short, grey-bearded banjo player", was formerly a member of the renowned Westcountry shanty crew Hanging Johnny, from as far back as 1994 until they disbanded in 2010. He now performs a wide repertoire as a solo artist and is a very sensitive singer and musician (banjo, guitar, harmonica and ukelele). With a fine voice, Roger uses an eclectic mix of material to produce an entertaining set as can be seen listed here. Quality and quantity!
'Charlie on the MTA'
'The Peat Bog Soldiers'
'The Thing-umme-bob (That's Going to Win the War)'
'The S'arnt Major's Balls'
'Bye Bye Long Johns'
'The Lass of Glenshee'
'Enoch Brown'
'Beyond the Blue Horizon'
'Has Anybody Seen My Girl?'
'Leaning on a Lamp Post'
'School Days Over'
'Kiss the Children For Me, Mary'
Pennymoor Singaround folk club dates back to 1979 (website). It runs outreach events as Pennymoor Entertains, to share the folk tradition with the public, and

Pennymoor Chorus

does what the club does best; singing folk songs with good choruses to keep the tradition alive.
'Robbers' Retreat'
'Pass Around the Grog'
'I Wish You'd Squeeze Me'
'Empty Echoes'
'One More Day'
'Freedom Plough'
'My Brother Sylvest'

Since retiring to the West Country,

Leith Whittington

has embraced the rich folk tradition here. Having been closely involved with Wren, both as director and in the mandolin orchestra, he is MC of the monthly Okehampton singaround (last Sundays, Fountain Inn). He has a lovely voice and often sings with his wife Sandie playing flute. They moved house this week, so thank you Leith!
'The Sound of Singing'
'Hot Asphalt'

Carol McFadzean

took up lace-making in 1985 and after retiring from teaching it became a full-time occupation. A teacher, researcher and writer, she is President of the International Lace Federation, and Chair of Devon Lace Teachers. In 2009 Carol raised funds to restore the grave of Charlotte Elizabeth Treadwin, a leading figure in the history of Devon lace, at Heavitree Cemetery.

Spring craft theme: Lace-Making
Floor performers:
Jackie Williams & Eileen Conn: 'Honiton Lace', 'I Wish I Had Never Known No Man At All'
Dave Hopkins: 'South Australia', 'The Dolton Boys'
Jane Snow: 'Rocking the Cradle', 'Blow the Winds in the Morning'
Alan Rosevear: 'Through Bushes & Through Briars', 'The Eddystone Light'
Paul Walker: 'The Croppy Boy', 'Only Remembered'
Steph Norgaard: 'Willie Taylor'
Dave Brassington: 'Life of the Country Boy'
Sylvia Watts: 'Sovay', 'Poor Old Horse'
Mike Warman: 'The Bonny Hawthorn'
Nicola King: 'London Lights'
Derek Moore: 'The Downhills of Life'
Martyn Babb: 'Train to Morra'

Dick & Mellie Henrywood: 'Goodnight Song'
A selection of feedback comments received after the session:
"Thoroughly enjoyed the evening and have noted the summer session in my diary already."
"We want to come to the next Hanlons - I've got it on the calendar! It was a real delight to hear the Honiton Lace song, and so apt for the occasion. It was good to see some younger people in the audience too, and they really seemed to enjoy it so I hope that they might tell their friends. It would be good if we could attract more younger people."
"I totally agree about the Honiton Lace song, brilliant to hear this sung, and lovely harmonies."
"Twas a good night - special."
"I thought the seating worked quite well, and singing in the bar area was probably easier for all the audience to see."
"Enjoyed the evening! Also appreciated the finer details – the lace around the spring flowers on the tables, the varied collection of photos and inviting Carol [the lacemaker]. She said how much she'd enjoyed the evening."
"Another good evening last Tuesday. Enjoyed Roger's set, nice variety of songs, and intro's."
"You two really do make such an effort to provide a wonderful setting and atmosphere for sharing music, songs AND folklore, customs and crafts thrown in as well! Magic!"
––––––