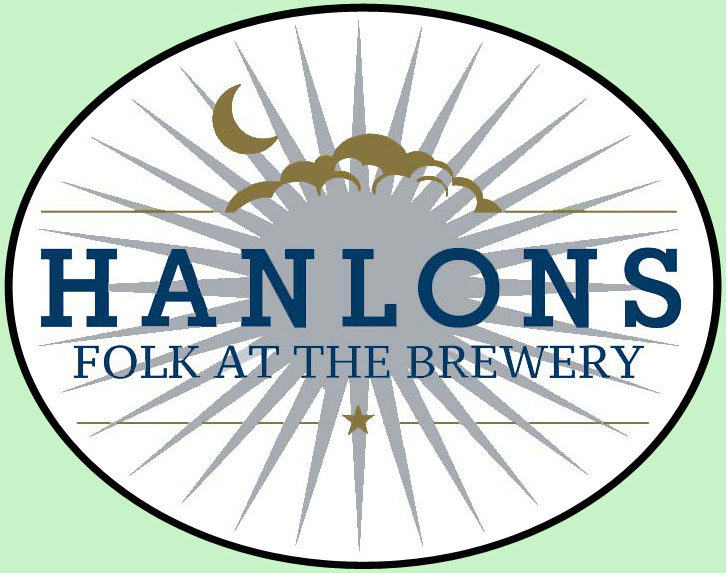 Folk at the Brewery
Autumn 2015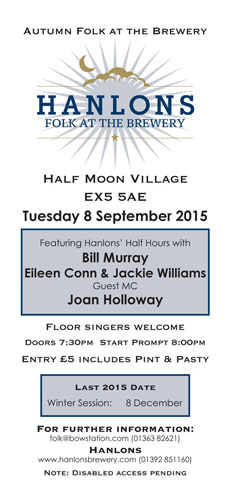 Tuesday 8th September 2015
Hanlons' Half Hours: Bill Murray, Eileen Conn & Jackie Williams
Guest MC: Joan Holloway
Craft theme: Corn Dollies
Bill Murray

is passionate about Dartmoor and was awarded The Dartmoor Society Award 2011 for Nurturing the Craft of Dartmoor Song. A founder of shanty group Mariners Away, Bill also sings at the Northmore Arms, Wonson and at Widecombe Fair. His CD,

'Down 'pon Old Dartymoor'

is available from Wren Music.
'Widecombe Fair'
'The Old Gallipoli'
'Sweet Nightingale'
'Wigeegoarra Joe'
'Oggie Man'
'All Around My Hat'
'The Old Grey Duck'
'Pleasant and Delighful'

Eileen Conn and Jackie Williams

originally met at Sidmouth Festival and have been singing in harmony for about ten years. They sing unaccompanied, both solo and as a duo, around Folk clubs in East Devon. Keen on researching the songs they collect and perform, their repertoire is mostly traditional English – and usually with a woman protagonist!
'Horncastle Fair'
'Sweet Blooming Lavender'
'Fare Thee Well My Dearest Dear'
'Me Mother Sent Me Out a-Fishing'
'Saucy Sailor Boy'
'Three Danish Galleys'
'Bonny Labouring Boy'

Joan Holloway

is an experienced caller, dancer, singer and percussionist. Formerly Dance Director for the Chippenham Folk Festival, Joan now loves living in Devon and is regular caller for the barn dance and ceilidh band Piping Hot
'Sing John Ball'
'Take Your Time'

Audrey Rolfe

, from Bridport, runs Corn-utopia with her husband, David. She is a member of the Guild of Straw Craftsmen and has been making corn dollies since 1972. As well as the traditional shapes, Audrey makes jewellery, dolls' house miniatures and has won prizes for stunning show pieces.

Autumn craft theme: Corn Dollies
Floor performers:
Jon Shapley: 'My Lady of Autumn'
Dave Hopkins: 'South Australia'
Steve Gill: 'Tiny Fish for Japan'
Jane Snow: 'Bonny Light Horseman'
Alan Rosevear: 'Salonika'
Martin Hudson & Courteney Yeoell: 'The Maid of Culmore'
Mike Palmer: 'The Belle of Belfast City'
Derek Moore: 'Ladies Go a-Thieving'
David Treadaway: 'As Far As I Can Tell'
Dave Lowry: 'Spanish Ladies'
Fred Sparkes & John Bickford: 'Gosport Nancy'
Roger Smith: 'Schooldays Over' / 'Kiss the Children for Me, Mary'
Leith & Sandie Whittington: 'North Devon Winter'
Peter Beer & Jenny Newburn: 'In the Evening by the Moonlight'
Nicola King: 'Hawthorn White, Hawthorn Red'
Paul Walker: 'Only Remembered'
Tom & Barbara Brown: 'Glossop Road'
Dick & Mellie Henrywood: 'Goodnight Song'
A selection of feedback comments received after the session:
"A truly great evening! Congratulations! Great atmosphere, great venue, great beer, great pasties, great bargain and ... last night ... an evening full of great folk and songs ... Many thanks to you both for all the effort you put in. Love the little extras with the corn dolly info sheets and exhibits AND the little bits of extra decoration and screen presentations with the mix of present and past shots (love the feathered edges of photos and the background canvas feel). Count me in as one who will definitely aim to attend as regularly as I can."
"I thoroughly enjoyed the evening. Well done both for all the organising & it was great to hear so many people picking up your song chorus so well."
"I really enjoyed yesterday evening. I had been looking forward to it. I must say that I like the way that Hanlons is set up, I would worry about turning people away in the future due to the limited capacity and that is a measure of your success. I did get a very strong feeling that everyone was up for a good sing ... and they sang beautifully."
"A good night, high standard of singing from everyone, I think moving up to sing in front of an audience concentrates the mind and improves the performance level."
"Hanlons is becoming a popular fixture and different people come each time, along with the stalwarts."
"A very enjoyable evening."
"We enjoyed the evening enormously – thanks for organising it."
"Very pleased it went so well again – well done!"
"A great evening with so many friends from all points."
"Thanks to you both for organising it. We had a lovely evening and will come again when we can."
"Once again, what a great night's entertainment! The staff are very welcoming and I think they enjoy it. Rest assured we will be at the next event."
––––––