Bow Station, Devon
Images
An aerial view of Bow station in 1996
There are various developments to the main building and surrounding garden but the engine shed has not been converted and the yard is still mainly a salvage business (it later specialised in slate and natural stone). The shelter on the platform opposite has been demolished and the slabs have been lifted but not removed (apparently they were bought by the West Somerset Railway).
The Colas Rail Tamper DR75406 'Eric Machel' at Bow station on 10 July 2019
It visted the line to run rail alignment equipment tests on the continuous welded rail to the east of the station.
The Colas Rail Ballast Regulator DR77901 at Bow station on 11 July 2019
A visit to follow up the Tamper tests on the previous day.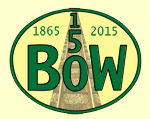 Website
If you have any information or material relevant to the station we would love to hear from you (contact us).